Émilie Simon Collaborates With Arcade Fire Director Vincent Morisset
Submitted by mike on Thu, 03/10/2011 - 02:51
For the launch of her forthcoming album, The Big Machine, Émilie Simon worked with Canadian director Vincent Morisset, whose pioneering work on cinematic interactivity with Arcade Fire earned praises worldwide. Vincent and Émilie were introduced by Jeremy  from Arcade Fire who also plays on The Big Machine. The two decided to collaborate on a series of interactive videos to illustrate four tracks from the album. With the help of photographer John Londono and illustrator Caroline Robert, they spent a day in Brooklyn capturing various moods of the city. The result is a series of interactive videos utilizing phenakistiscope, an old animation device that uses the persistence of retina to create images juxtaposition. Each of the four films is unique ("Chinatown" has an interactive sampler and octopus animation that are triggered when you click on the octopus, when you click on the wall in "Dreamland" it makes feathers fall etc). The videos premiered on InterviewMagazine.com today and can also be seen here.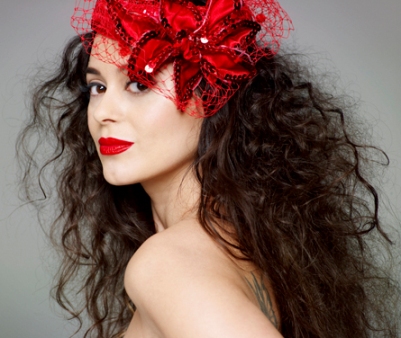 One of France's most renowned artists, Émilie Simon, launched her career in 2003 and immediately captured the imagination of a large audience with her sprawling and elegant musical fantasies, earning three Victoires de la Musique (France's Grammy equivalent) during the course of her first three albums. She gained international acclaim for scoring the smash documentary March of the Penguins and saw her first US release in 2006 with The Flower Book. In 2008, she relocated to Brooklyn where she recorded her new album The Big Machine surrounding herself with talented guests such as Kelly Pratt and Jeremy Gara (Arcade Fire) as well as Jon Natchez (Beirut) or Mark Plati (David Bowie, The Cure, Brazilian Girls).
Her iconic style has made her a respected voice in fashion. She is often seen donning dresses by Yeojin Bae, Jean-Paul Gauthier or Vivienne Westwood and collaborated with Paule Ka to design her stage attire. She blazes her own trail aesthetically, incorporating vintage clothing or up and coming designers to more established names, toying with fashion as she does with sounds.