1320 Records to Release John Hughes' RESET THE WAREHOUSE May 18th
Submitted by mike on Tue, 04/20/2010 - 22:52
STS9's boutique record label, 1320 Records, proudly presents Reset the Warehouse, the new studio release from John Hughes (May 18th, 2010 / 1320 Records).  A new recording studio, a new record label, and a new record allow John Hughes to step out from the familiar surroundings of Hefty Records, the label he founded in 1996, to strengthen his creative partnership with 1320 Records.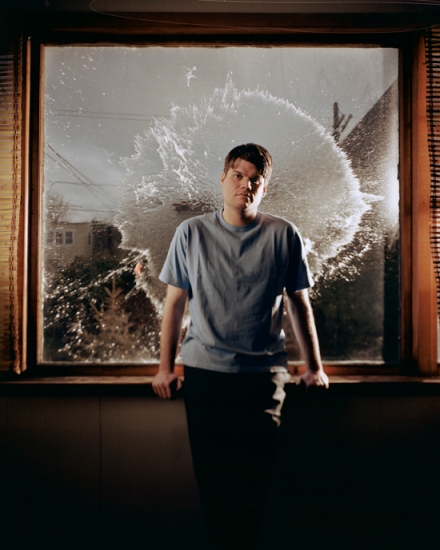 Though Hughes has collaborated with label-founders STS9 for years, this marks his first official release on 1320-an alliance long in the making, given both parties' shared mission of creating and supporting new music under artist-run labels.  Like Hefty, 1320 is an independent, musician-run collective that stresses cooperation between the artist and label.
According to Hughes, "Working with 1320 affords [him] the freedom to focus entirely on the music and the live performances in support of the record."
And, STS9 adds about Hefty, "few contemporary American labels have had as much influence on [the band]. We are extremely honored and excited to be apart of the 'Reset' release."
Hughes has recorded and released over a dozen albums under various aliases and groups like Slicker, Brood, Some Water and Sun, and Bill Ding, as well as under his own name.  His latest creation, Reset the Warehouse, represents the prime selections from a productive period of meticulous tracking and experimentation at his HFT Studio, located outside of Chicago.
Working with a team of veteran musicians and trusted collaborators, Hughes has assembled a cohesive union of styles and recording techniques, resulting in a record that explores uncharted directions while remaining rooted in sounds and beats that a listener may only describe as "classic."
As Hughes explains, "I wanted this recording to have a live, gritty sound, so I took it outside of the computer as much as I could. It was mixed through a board to tape, and the synths are all analog. Within the context of an electronic record, the live performances also help give it a warm, organic feel."
When it came time to edit and mix the tracks, Hughes looked to vibraphonist Rick Embach, who was involved in the sessions from the earliest stages, as well as his old friend Joshua Eustis of Telefon Tel Aviv.  Hughes brought his recording sessions to Eustis' studio in Chicago, and together they mixed the tracks thorough an analog mixing board and then to two-track tape, giving the album the finishing touches and appropriate analog "glue" it required.
Visit here to view the entire supporting cast of Reset the Warehouse.
The Reset the Warehouse track list is as follows:

1.  A Reflection of the Times
2.  Waukee Wallop
3.  Another One
4.  Reset The Warehouse
5.  Pterodactyl Piano Bar
6.  Little Dot in the Sky
7.  Done Everything
8.  Moan Pop Asheesh
9.  Witchfinger
10.  You Don't Love Me
11.  Wow, I Think I Love You
12.  Naphtha Jets
As his work in the studio continues to evolve, and interest in his music continues to soar, John Hughes takes to the road this summer with label mates STS9, in support of Reset the Warehouse.  Hughes will perform this August and September with STS9 at select events in NYC, Boston, Philadelphia, Chicago and at the infamous Red Rocks Amphitheatre in Colorado.
For more information on John Hughes and to see full tour date information please visit here.