15th Annual West Coast Jazz Party Sept. 3-6, 2009
Submitted by press on Mon, 07/06/2009 - 21:43
4 Nights and 3 Non-Stop Days of America's Best Mainstream Jazz Party featuring: Three Big Bands, Nightly Ballroom Concerts, Outdoor Pool Sessions, a Saturday Night Dance and a unique Newport Harbor Jazz Brunch Cruise!   Helping celebrate 15 swingin' years will be the Four Freshmen, Terry Gibbs, Jack Sheldon, Ken Peplowski, Ernie Andrews, Houston Person, Marilyn Maye, Paul Smith, Peter Erskine, Frank Capp Juggernaut plus special tributes by Debby Boone, Charlie Shoemake and Byron Stripling with his All-Star Orchestra featuring Butch Miles on drums!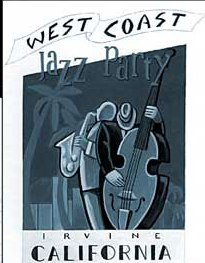 With Orange County's wonderful weather in September, this year's party will feature Pool Sessions on Friday and Saturday, both days  from 12 noon until 3:15pm including on Friday the JazzAmerica Big Band directed by Richard Simon and the Dave Tull Quartet plus a special act to be announced. On Saturday- two sets with the celebrated Frank Capp Juggernaut Orchestra featuring Ernie Andrews plus Guitar Summit with Mundell Lowe, Mimi Fox & Ron Eschete  supported by Jon Mayer, Hassan Wiggins and Harold Jones.
The Sunday Jazz Brunch Cruise on Hornblower Yacht's Entertainer will again be a highlight of the 3 day event.   Attendees and the artists will transition from the Marriott to Newport Harbor, where 3 decks of  specially designed "jam sessions" with over 20 All-Stars, including Terry Gibbs, Marilyn Maye, Guitar Summit and the Peter Erskine Trio will be featured during the champagne brunch cruise which will take place from 11:00am until 2:00pm.
September 3-6, 2009 is the weekend for the West Coast Jazz Party & Brunch Cruise, to again be held over Labor Day Weekend at the Irvine Marriott Hotel and Hornblower Yacht's Entertainer.
The party will center on a large stage nightly at 7:00pm (8:00pm on Thursday night only) with reserved seating, and conclude each night with an "up close & personal" acoustic lobby bar session, wrapping up well after midnight.   Late afternoon lobby sessions will also feature artists in an acoustic setting.
*Kicking off this 15h year will be the Grand Opening Sessions on Thursday evening featuring two sets with the Four Freshmen, including 5 Trombones and the Ken Peplowski All-Stars!
 
*Featured on Friday evening will be legendary vibist Terry Gibbs and his quartet with Ken Peplowski, the Grant Stewart Quartet, Byron Stripling Quintet and closing the night- Ernie Andrews & Houston Person-Together Again!
 
*Saturday evening will feature the Paul Smith Trio, Ken Peplowski, Houston Person, Byron Stripling, Harold Jones followed by Marilyn Maye and her trio featuring Tedd Firth plus the Jack Sheldon California Cool Quartet.
  
*Sunday night's closing sessions will include the Ken Peplowski Quartet, a Tribute to Rosemary Clooney by Debby Boone with Musical Director- John Oddo, Charlie Shoemake's Tribute to George Shearing with Terry Trotter, Luther Hughes, Colin Bailey & Ron Anthony plus BIG BAND MEETS BROADWAY with Byron Stripling's All-Star Orchestra featuring Butch Miles on drums!
Also featured  during this Labor Day Weekend jazz Celebration will be Dan Barrett, Chuck Berghofer and his Midnight Jazz Band,  Jim DeJulio, Matt Finders, Gary Foster, Paul Kreibich, Andy Martin, Jon Mayer Trio, Roy McCurdy, Ira Nepus, Tom Ranier, Bob Summers, Terry Trotter, and Scott Whitfield!
Tickets are now available for the complete four night, three-day package (Over 33 hours of jazz!) including the Sunday Jazz Brunch Cruise. Prices are $335/375. Individual reserved seats are priced at $60/$75 for evening performances and $40/50 for the Grand Opening Sessions,  $30 each  for "Friday & Saturday By the Pool" and $79 for the Jazz Brunch Cruise (space available). For tickets to the West Coast Jazz Party & Brunch Cruise, call the Jazzline at 949.759.5003 or for complete artist appearance times and an order form  visit our website at: http://westcoastjazzparty.com/ . Those wishing to have a weekend getaway may also enjoy the Irvine Marriott's special rate of $135 per night and $165 for concierge.  For hotel reservations call the Irvine Marriott Hotel at 949.553.0100 and ask for the WCJP rate.   The Irvine Marriott is located at 18000 Von Karman Ave., five minutes from the John Wayne/Orange County Airport, with free shuttle service.  Free self-parking will also be available for attendees.