The 18th Suwannee Springfest Schedule Announced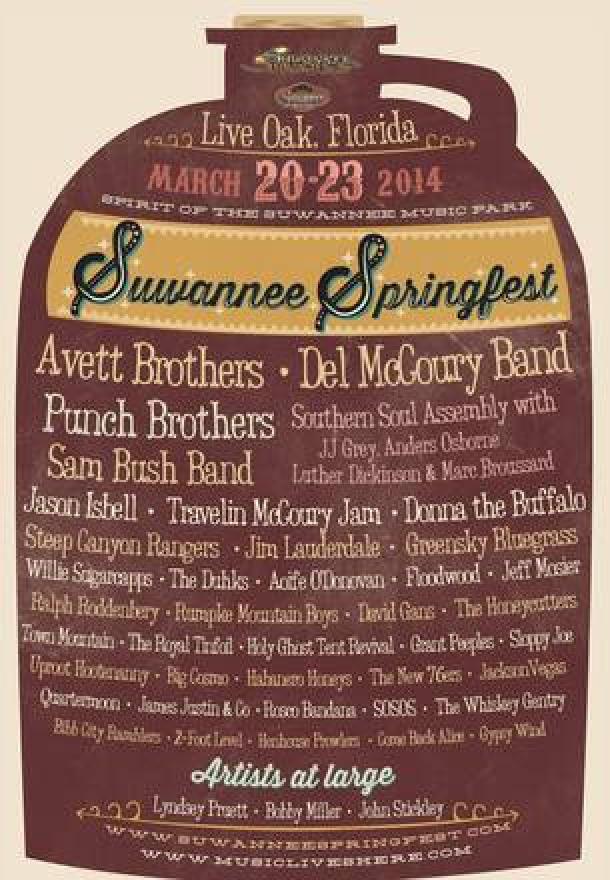 Suwannee Springfest celebrates its 18th year at the magnificent Spirit of the Suwannee Music Park in Live Oak, FL on March 20-23rd. Festivalgoers can enjoy four days of camping and live music, arts and crafts, and a selection of great foods. Suwannee Springfest consistently features some of the world's finest performers in Roots Rock, Bluegrass & Newgrass, Acoustic Blues, Singer/Songwriter, Cajun/Zydeco, New & Traditional Folk and other forms of American Roots music. Tickets are on sale in advance and at the gate.
Suwannee Springfest is excited to welcome to the 2014 stages The Avett Brothers, Del McCoury Band, Punch Brothers, Sam Bush Band, Jason Isbell, Southern Soul Assembly (JJ Grey, Anders Osborne, Luther Dickinson and Marc Broussard), Travelin McCoury Jam, Steep Canyon Rangers, Donna The Buffalo, Jim Lauderdale, Greensky Bluegrass, Floodwood, Town Mountain, Willie Sugarcapps, The Duhks, Aoife O'Donovan, The Honeycutters, David Gans, Rumpke Mountain Boys, The Whiskey Gentry, Henhouse Prowlers and many more. The full schedule of events is now available online at suwanneespringfest.com/lineup/schedule.
This energetic and family friendly musical celebration is a gem of a festival with a great lineup, spring weather and a stunning natural setting. Tickets for Suwannee Springfest are on sale in advance for $170 ($190 at the gate) inclusive of all taxes and fees, and include 4 days of primitive camping and music. Kids under 12 are invited to join for free. Fans can also upgrade their experience with VIP tickets for $300. For RV hook ups, cabin rentals and golf cart rentals, please call SOSMP at (386)-364-1683. For further information and tickets, please visit www.suwaneespringfest.com. 
Suwannee Springfest 2014 Lineup
The Avett Brothers 
Del McCoury Band
Punch Brothers 
Sam Bush Band
Southern Soul Assembly (JJ Grey, Anders Osborne, Luther Dickinson and Marc Broussard)
Jason Isbell
Travelin McCoury Jam 
Steep Canyon Rangers
Jim Lauderdale 
Greensky Bluegrass
Willie Sugarcapps 
The Duhks 
Aoife O'Donovan 
Floodwood 
Ralph Roddenbery 
Rumpke Mountain Boys 
David Gans
The Honeycutters 
Town Mountain 
Grandpa's Cough Medicine 
Whetherman 
Canary in the Coalmine 
The Royal Tinfoil 
Holy Ghost Tent Revival
Love Canon
Grant Peeples 
The Stacks
Sloppy Joe 
Uproot Hootenanny
Big Cosmo 
Habanero Honeys 
Tammerlin
The New 76ers 
JacksonVegas 
Quartermoon 
James Justin & Co
Rosco Bandana 
SOSOS 
The Whiskey Gentry
Bibb City Ramblers
Two Foot Level
Henhouse Prowlers 
Come Back Alice 
Gypsy Wind 
Nook & Cranny 
Beartoe 
Mickey Abraham's Acoustic Ensemble 
Artists at Large: Jeff Mosier, Bobby Miller, Jon Stickley, Lyndsey Pruett and Steve Pruett