19th Annual Microbreweries For The Environment
Submitted by mike on Wed, 04/20/2011 - 03:18
KGNU and the Boulder Weekly proudly present the 19th annual Microbreweries for the Environment benefit on Friday, April 22 at The Boulder Theater.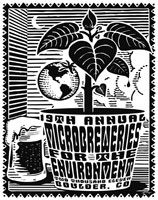 Since 1993, the Microbreweries for the Environment benefit has raised over $120,000 for local environmental causes. The proceeds from this year's benefit will further the environmental efforts of four local non-profit organizations: CU Environmental Center, Flatirons Neighborhood Farm, The GrowHaus, and Sprout City Farms.
Nineteen Colorado microbreweries serve their best beers for only $2 each. Participating breweries include: Asher Brewing Co., Aspen Brewing Company, Avery Brewing, Boulder Beer Company, Breckenridge Brewery, Bristol Brewing Company, Crabtree Brewery, Dillon Dam Brewery, Great Divide Brewing Company, Fort Collins Brewery, Left Hand Brewing Company, New Belgium Brewing Company, New Planet Beer, Odell Brewing Company, Oskar Blues Brewery, Pumphouse Brewery, Ska Brewing Company, Twisted Pine Brewing, Upslope Brewing Company.
The evening's entertainment features music by P.K.B. followed by two sets from Head for the Hills. These local bands' innovative sounds are sure to harmonize well with Colorado's finest brews.
P.K.B. is Pete Kartsounes on guitar, Kevin Malone on bass, Ryan Sapp on drums, and Greg Schochet on guitar and mandolin, and Bill McKay on keys. P.K.B. combines electric and funk sounds with slamgrass undercurrents. Armed with an acoustic guitar, blazing skill, powerful voice, and relentless heart, Pete inspires and entertains on a quest to make a difference in people's lives. P.K.B. will stretch boundaries and bend genres to create tasteful blends of original melodies and lyrics, captivate audiences and foster good times.
Head for the Hills, the acclaimed Colorado Bluegrass quartet, has been receiving nation-wide recognition in response to their refreshing take on acoustic music. Rooted in the tradition of bluegrass but described perhaps more accurately as progressive acoustic/modern roots, H4TH produces a vibrant mixture of homegrown compositions, traditional harmonies, and improvisation. In the live setting, H4TH effortlessly ventures into a myriad of musical styles and sonic landscapes that appeal to a boundless array of listeners.
The benefit is a zero-waste and carbon-neutral event. We encourage people to walk, bike, or bus to the event. Doors open and beer tasting starts at 8:00pm, and music will run to 1:00am. Admission costs $20 ($22 day of show) and includes a commemorative pint glass. Tickets are available at the Boulder Theater Box Office (303-786-7030 or www.bouldertheater.com). This event traditionally sells out in advance.
--