2010 University Of Michigan Jazz Festival "Charles Mingus Day"
Submitted by press on Tue, 02/02/2010 - 22:46
The 2010 University Of Michigan Jazz Festival  "Charles Mingus Day" will take place February 13th at 7:30p.m. at the Power Center for the Performing Arts in Ann Arbor, Michigan. The festival announced today that Congressman John Conyers Jr. would receive the first, "University of Michigan John Conyers Jr. Jazz Advocacy Award". This award is named in his honor and serves as recognition of extraordinary achievement in the world of Jazz by an advocate or patron.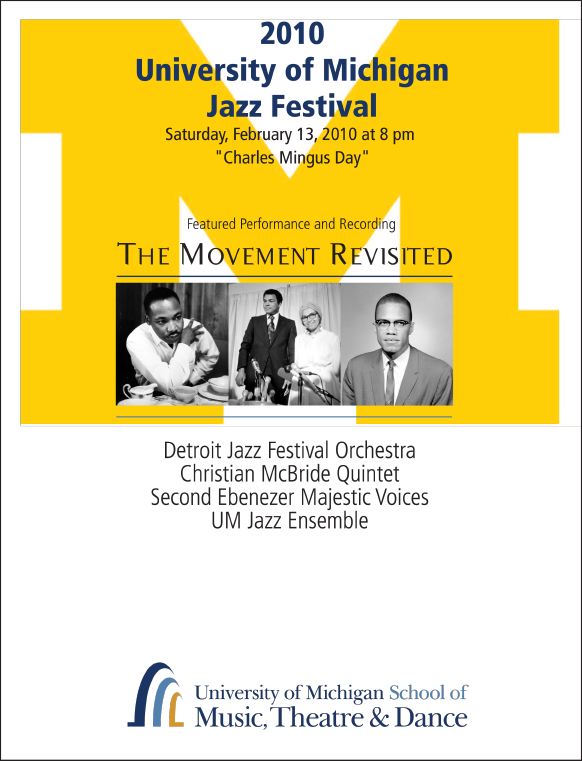 In recognition of Black History Month and the Jazz Festival tribute to Charles Mingus, three virtuoso bassists, Christian McBride, Robert Hurst and Rodney Whitaker, will take the stage together in an historic improvised performance.
The festival feature concert will also include the University of Michigan Jazz Ensemble, The Christian McBride Band and the Detroit Jazz Festival Orchestra under the direction of Dennis Wilson. The DJFO will feature a new composition by Christian McBride entitled "The Movement Revisited". This composition is an important expression of the Black experience through the language of Jazz and will also be performed on February 14th at 7:30pm at Second Ebenezer Church in Detroit.
The University of Michigan Jazz Festival is a noncompetitive event providing collegiate, high school and middle school students an opportunity to interact with the music faculty of the University of Michigan as well as other distinguished educators.  The Festival is open to students, educators, and music lovers of all ages and is presented by the School Of Music Theatre & Dance through the Department of Jazz and Contemporary Improvisation with additional support from numerous academic units within the University Of Michigan.