2011 Morristown Jazz & Blues Festival
Submitted by press on Tue, 08/09/2011 - 20:00
The Mayor of Morristown in northern New Jersey will host a free all day concert on the Town Green on Saturday, August 20th. The Morristown Jazz & Blues Festival will run from noon until 10:00 p.m. and features the Rusty Paul Band, the Duke Ellington Legacy Band, the Winard Harper Sextet, Baby Soda and the Jerry Vezza Quartet.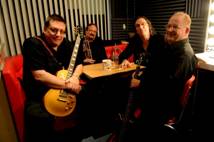 The music begins at noon with two sets by the Rusty Paul Band, led by the son of the legendary guitarist Les Paul. With a special blend of jazz, blues and funk, the six musicians will pay tribute to the great Les Paul as well as feature other popular tunes.
At 2:00, the Duke Ellington Legacy Band, under the leadership of Duke's grandson Edward Kennedy Ellington II, takes the stage. With fresh arrangements by pianist Norman Simmons and sax great Virginia Mayhew, this 9-piece ensemble is dedicated to keeping Duke's music alive and current. Most recently, the Legacy Band headlined the New Jersey Jazz Society's Jazzfest 2011.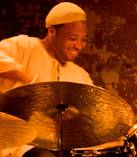 Following the Legacy Band will be the popular Winard Harper Sextet. Regarded as one of the elite jazz drummers on the current scene, Harper has performed with many jazz legends including Dr. Billy Taylor, Betty Carter, Dexter Gordon and Ray Bryant. Surrounding himself with extraordinary young musicians, Harper is an explosive drummer who is in demand all over the world.
At 6:00, five young musicians known as Baby Soda take the stage. On the forefront of a new movement known as street jazz, Baby Soda draws on an eclectic set of influences ranging from 30's era swing, New Orleans jazz and gospel. The band maintains a busy schedule of performances which includes venues such as the Village Vanguard, the Knitting Factory and the Louis Armstrong House.
The festival closes with the Jerry Vezza Quartet featuring two of the regions' most popular jazz musicians, pianist Jerry Vezza and singer/guitarist Grover Kemble. Joining Jerry and Grover will be Tom Sayek on drums and Rick Crane on bass.
The brainchild of Mayor Timothy Dougherty, the festival has been made possible by business sponsors including PSE&G, JCP&L, Riker Danzig, Brown and Brown Metro, The Metropolitan, 40 Park, Weichert Realtors, Roots, Trenk Depasquale, TSS Facility Services, Integra Management Corporation, Realty Management Associates, Belle Associates, Inglesino Pearlman and the Grasshopper Restaurant. Additional sponsors include WBGO, the Star-Ledger and the New Jersey Jazz Society.
The Morristown Jazz & Blues Festival will take place on the Green in Morristown rain or shine from noon until 10:00 p.m. Admission is free and many local restaurants will be offering specials for festival attendees. Bring your lawn chairs and blankets.