2013 Phish Summer Tour Public Onsale Begins Tomorrow
Submitted by phish.com on Wed, 03/27/2013 - 10:14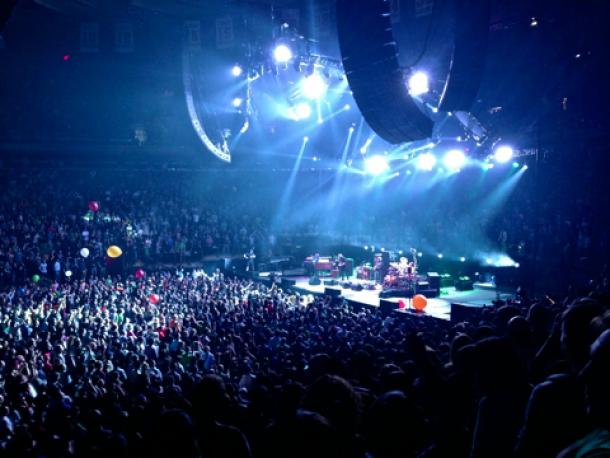 Tickets for Phish's 2013 Summer Tour go on sale to the general public beginning this Thursday, March 28th, with more onsales on the 29th and 30th. For complete ticketing details, visit http://phish.com/summer2013.
A quick updated about ticketing for Phish's July 19th, 20th and 21st shows at Northerly Island, a 91-acre peninsula that juts into Lake Michigan and offers a stunning view of the Chicago skyline: The Chicago Plan Commission has approved a reconfiguration of Charter One Pavilion on Northerly Island that will allow for the creation of a General Admission lawn area by opening the venue into the park adjacent to the existing venue.
GA Lawn tickets will be $45.00 ($120.00 for a 3 Day Ticket) and will be available for sale through Ticketmaster when the shows go on sale Friday, March 29th at 10:00am Central.
To view the official announcement video, visit http://phish.com/summer2013.
PHISH 2013 SUMMER TOURDATES
7/03 Bangor, ME - On Sale Sat. 3/30 at 10AM ET
7/05 Saratoga Springs, NY - On Sale Fri. 3/29 at 10AM ET
7/06 Saratoga Springs, NY - On Sale Fri. 3/29 at 10AM ET
7/07 Saratoga Springs, NY - On Sale Fri. 3/29 at 10AM ET
7/09 Toronto, ON - On Sale Thu. 3/28 at 10AM ET
7/10 Holmdel, NJ - On Sale Sat. 3/30 at Noon ET
7/12 Wantagh, NY - On Sale Thu. 3/28 at 10AM ET
7/13 Columbia, MD - On Sale Fri. 3/29 at Noon ET
7/14 Columbia, MD - On Sale Fri. 3/29 at Noon ET
7/16 Alpharetta, GA - On Sale Fri. 3/29 at 11AM ET
7/17 Alpharetta, GA - On Sale Fri. 3/29 at 11AM ET
7/19 Chicago, IL - On Sale Fri. 3/29 at 10AM CT
7/20 Chicago, IL - On Sale Fri. 3/29 at 10AM CT
7/21 Chicago, IL - On Sale Fri. 3/29 at 10AM CT
7/26 George, WA - On Sale Sat. 3/30 at 11AM PT
7/27 George, WA - On Sale Sat. 3/30 at 11AM PT
7/30 Stateline, NV - On Sale Thu. 3/28 at Noon PT
7/31 Stateline, NV - On Sale Thu. 3/28 at Noon PT
8/02 San Francisco, CA - On Sale Thu. 3/28 at 10AM PT
8/03 San Francisco, CA - On Sale Thu. 3/28 at 10AM PT
8/04 San Francisco, CA - On Sale Thu. 3/28 at 10AM PT
8/05 Los Angeles, CA - On Sale Fri. 3/29 at Noon PT
8/30 Commerce City, CO - On Sale Sat. 3/30 at 10AM MT
8/31 Commerce City, CO - On Sale Sat. 3/30 at 10AM MT
9/01 Commerce City, CO - On Sale Sat. 3/30 at 10AM MT