29th Annual 'Reggae On The River' Returns to Original Location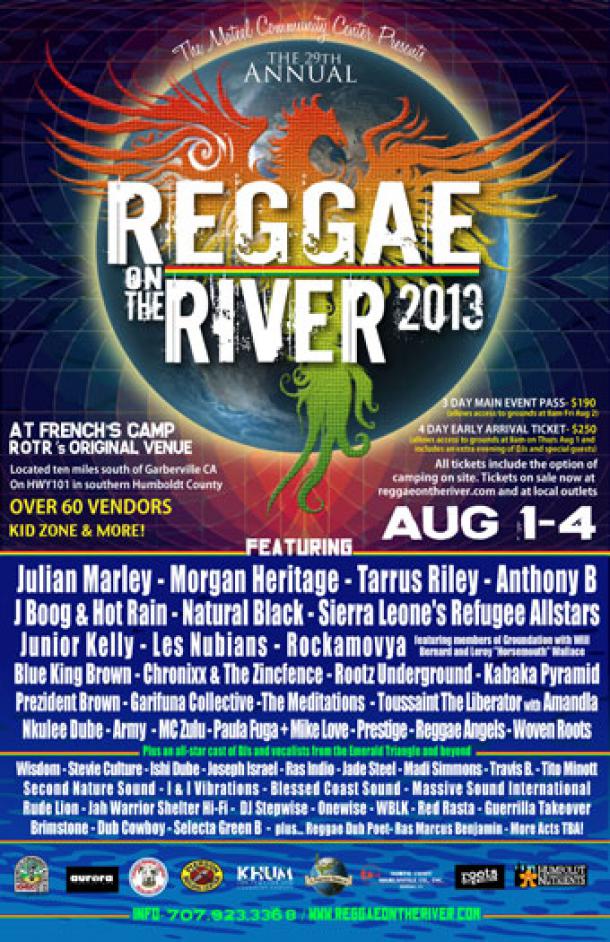 The first and foremost Reggae Festival established in 1984 has returned to its original site, French's camp, located on the Eel River in Humboldt County, California. This magical venue has huge historic significance with years of great festivals past. Hundreds of musicians have performed and thousands of people camped and enjoyed reggae music while practicing peace and love. This world renowned event draws from all over the US and around the globe.  Attendees speak of it as a rite of passage. If you have never gone - you must - to experience the community, the "LOVE" the event fosters and the sense of belonging. Many of the attendees grew up at the event, met their significant other, married and had children of their own. Musicians speak of it as a - must play - event, feeling it is the best Reggae Festival in the US. It has become a place to renew relationships, continuing the "oneness" year after year. This event is not just a rock concert; it is the annual re-establishing of the faith and the principals, which built Humboldt County.
This year is extra special because it represents the "coming home" of Reggae On The River to its original roots and the completion of a cycle. The festival has always promoted, love, consciousness, ecology, greening, recycling and kindness to all. The community, the mountain and the Eel River welcome the return of "Reggae On The River. Let the magic begin....
Artists Performing:
Julian Marley & The Uprising Band, Morgan Heritage, Tarrus Riley & Blak Soil, Anthony B, J Boog & Hot Rain, Natural Black, Sierra Leone's Refugee Allstars, Junior Kelly, Les Nubians, Rockamovya, Blue King Brown, Rootz Underground, I'Chronixx & The Zincfence, Kabaka Pyramid, Nkulee Dube, The Meditations w/ Ansel Cridland, Prezident Brown, Garifuna Collective, Toussaint The Liberator w/ Amandla, Prestige, MC Zulu, Army Paula Fuga + Mike Love, Reggae Angels, Woven Roots