2nd Annual Del Yeah Weekend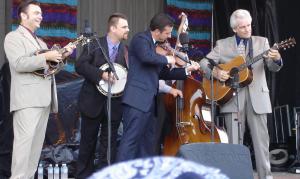 Del Yeah is back and bigger than before! After a very successful 2010 labor day weekend with over 2500 fans in attendance, Del McCoury music is excited to announce the 2ndannual 'Del Yeah' weekend - a multi-day, multi-venue 'happening' taking place over Labor Day weekend, 2011 in North Carolina and Georgia. The idea of Del Yeah is to create a festival atmosphere in an outdoor setting or otherwise non-traditional venue complete with impromptu jams and unscheduled collaborations.
Initial plans include shows on September 2nd and 3rd featuring the award-winning Del McCoury Band and their friends Cornmeal, Drew Emmitt, Danny Barnes & David Mayfield Parade presented at Terrapin Brewery in Athens, GA and Pisgah Brewing Company in Black Mountain, NC. Shows will be programmed for a full afternoon and evening's worth of music and entertainment, culminating in closing jam sessions that will have audiences on the edge of their seats or dancing to the music all night long.
Who: Del Yeah featuring The Del McCoury Band, Cornmeal, Drew Emmitt, Danny Barnes, and The David Mayfield Parade (plus Welfare Liners in Athens)
Where & When: Friday, September 2nd at Terrapin Brewery – Athens, GA
Where & When: Saturday, September 3rd at Pisgah Brewing Company – Black Mountain, NC