3rd Annual 7908 Aspen Songwriters Festival | March 21-25, 2012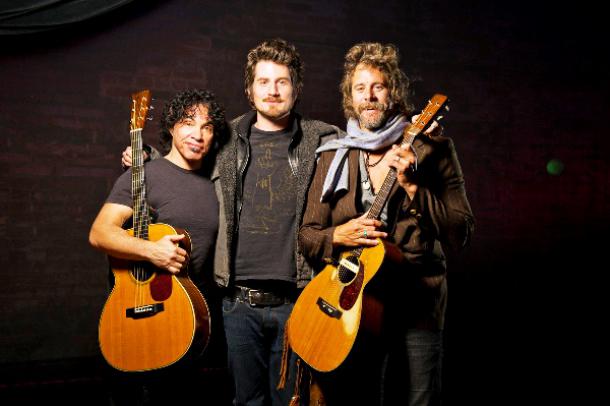 Produced by Songwriter Hall of Fame member John Oates and the Wheeler Opera House, the third annual 7908 Aspen Songwriters Festival will take place March 21-25 in Aspen, CO.  The 7908 Aspen Songwriters Festival is the nation's most intimate musical weekend where legendary writers perform side by side with the next great generation of songwriting talent. 
The 7908 Aspen Songwriters Festival returns to the mountain town with 13 performances, ranging from Appalachian Americana through to top Alt-Rock and Pop.  "This year, the festival is so big that we had to add an extra day," said festival co-founder and Wheeler Opera House Executive Director Gram Slaton, "but when there's so much great talent that wants to be part of what you're offering, you make room."  
The Line Up:
Wednesday, March 21 – The New Americana:
7:00 p.m. – DARRELL SCOTT – a member of Robert Plant's 2011 "Band of Joy" tour, Grammy-nominated songwriter ("Long Time Gone" recorded by the Dixie Chicks) and guitar master
8:30 p.m. – ADAM AIJALA and BEN KAUFMANN – guitarist, bassist and vocalists for the Bluegrass jammers, the Yonder Mountain String Band
Thursday, March 22 – Two Sides of Austin:
7:00 p.m. – JAMES McMURTRY – Grammy-nominated singer-songwriter, winner of Americana Music Awards for song and album of the year.  John Mellencamp says, "James writes like he's lived a lifetime."
8:30 p.m. – BOB SCHNEIDER – winner of 24 Austin Music Awards, his songs have appeared in the movies "Miss Congeniality," "40 Days & 40 Nights,"  "Secrets of the Ya-Ya Sisterhood" and "All About Steve."
Friday, March 23 – So-Cal Traditions:
6:00 p.m. – THE BERKLEE SONGWRITERS CIRCLE – SAM SHRIEVE (son of original Santana drummer Mike Shrieve), MERRILY JAMES, and NICK GOLDSTON are three of the brightest young talents from one of America's very finest music schools, Berklee College of Music in Boston
7:15 p.m. –  JD SOUTHER and CARRIE RODRIGUEZ – JD has been one of the great lyric voices in rock with one hit after the other ("New Kid in Town," "Heartache Tonight," "Best of My Love"), while Carrie is one of the most exciting new and completely original voices being discovered today
8:45 p.m. – THE BLUE SKY RIDERS – Grammy Award winner and artist KENNY LOGGINS' ("What a Fool Believes", "Footloose", "I'm All Right") new project, with outstanding songwriters GEORGIA MIDDLEMAN (cuts by Keith Urban, Tracy Lawrence, and Sarah Buxton)  and Nashville Songwriters Hall of Fame member GARY BURR (14 #1 songs with hits in pop, country and Latin genres)
Saturday, March 24 – Masters of the Hook:
6:15 p.m. – SOPHIE B. HAWKINS – Grammy-nominated singer-songwriter whose hits include "Damn I Wish I Was Your Lover", "Right Beside You," and "As I Lay Me Down"
7:45 p.m. – MATT SCANNELL – Lead vocalist and principal songwriter of the alternative rock band, Vertical Horizon – hits include "Everything You Want", "You're A God", "Best I Ever Had" 
9:15 p.m. – MARC BROUSSARD – Bayou-drenched soul master performing with his full band
Sunday, March 25 – Brothers and Sons:
6:15 p.m. – ANGEL SNOW – touted by John Oates as the next great American songwriter
7:15 p.m. – JOHN OATES and SAM BUSH – Wheeler's two resident musicians appearing with master bluegrass guitarist Stephen Mougin
8:45 p.m. – MATT NATHANSON – currently on tour with Kelly Clarkson, Matt's perhaps best known for his platinum song "Come On Get Higher."  His music has been featured in episodes of Scrubs, NCIS and One Tree Hill.
Slaton comments about the line-up, "Knowing these two (John Oates and Sam Bush) - there's no telling who else might end up on the stage, so it's fair game to expect some surprise guests from 7908. One way or the other, it's the kind of show you can only expect to catch at our festival." 
Colorado Songwriting Competition:
New to this year's 7908 Aspen Songwriters Festival is a homegrown search for Colorado's Best Songwriter 2012. Six towns will hold competitions to see which tunesmiths get to be part of this year's 7908. "We are going to Breckenridge, Vail, Steamboat Springs, Aspen, Winter Park and Boulder to hold competitions open to all Colorado residents," says Slaton. "Contestants are required to perform only self-penned material for the judges. Based on originality, talent, and presentation, finalists will receive three nights lodging in Aspen, perform in several of Aspen's best-loved bars over three evenings, and receive a full-festival pass. And the winner will get to perform before the final 7908 show, sharing the stage with John Oates. Not a bad first prize!"
Ticket Information:
Full festival passes are $195.00, or 35% off the single ticket price for all thirteen shows. There will be reserved seating for full-festival pass holders; however there will be a limited number of full-festival passes available.  Back by popular demand this year are day passes, which take a full 20% off the price of that day's shows. Day passes for Wednesday are $44.00; for Thursday, $36.00; for Friday, $46.00; for Saturday, $58.00 and for Sunday, $56.00. All passes and individual tickets will go on sale at 11:00am on Monday, January 23rd, at the Wheeler's Aspen Show Tickets box office (970-920-5770 locally, 866-449-0464 out of area, or online at www.aspenshowtix.com).  For a complete list of performances times and ticket prices, visit www.aspensongwritersfestival.com.
The Aspen Songwriters Festival is sponsored by CF Martin & Co., Inc., Levinson Jewelers, Cloud 9, Emerald Asset Advisors, LLC, Greenspoon Marder Attorneys At Law, Ocean Drive Magazine, and the Colorado Tourism Office.