8 Piece Atlanta Band Noot D'Noot Release Horn of Plenty LP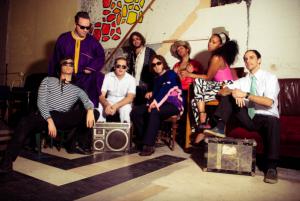 Lifestyle Upgrade Entertainment is proud to present Horn of Plenty, the new album by Atlanta's Noot d' Noot (Shakedown Records). The 8-piece outfit has been redefining parties with their undefinable sound for the past 6 years, and this latest record sees the band rocketing their spaced-out dance grooves into the deep reaches of the Heavens. The band hosts a talented collective of musicians, including Grammy-nominated Rich Morris, Mastodon's go-to keyboard player, along with members from groups as diverse as The Selmanaires, The Purkinje Shift, Hal al Shedad, Good Friday Experiment, 4th Ward Afro-Klezmer Orchestra, and The Go Steadys. 2012 led to the addition of Kid Pyramid, one-half of the notoriously fun Atlanta duo Judi Chicago. The addition allowed the band to further explore the use of male harmonies alongside the incredible wails and hollers of Karima Harrison aka Ms. Electro Siren, Reema Doll. Horn of Plenty is a delightful dip into psychedelic disco, heavy pop, and rump shakin' good times.
Noot d'Noot gave fans a glimpse into what to expect from Horn of Plenty with the glam "Top of the Pops" style video for "Streetfighter," the first single off the record. In a recent interview with Atlanta blog Speaker Creatures, Karima Harrison describes the band for those who have never heard them before as "a mix of people who are coming from so many different places and have found a perfect space through music and it is pretty universal for that reason because it's pulling from all over the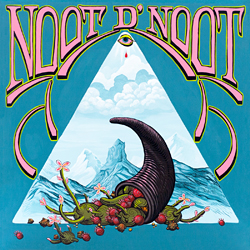 place. I would never say, 'Oh, this is not music for you because you like this type of thing' so I think the thing that I'd want people to know is that this is music for everybody." They have toured with other bands with a flair for the dramatic, such as Of Montreal, but in a demonstration of just how versatile their music and performances really are, the band shared the stage recently with fellow ATLiens The Black Lips and rapper Juicy J at a Redbull Sound Select event at Terminal West and rocked Creative Loafing's Best of Atlanta party at Centennial Olympic Park with Killer Mike and Big Boi on September 19.
Find Noot d'Noot on Facebook, the Blogosphere and Twitter