Aaron Davis Music | Jackson Hole, WY
With the November release of his solo studio album "Rear View Mirror" (Yella Dog Records/2008), award-winning songwriter and multi-instrumentalist Aaron Davis breathes new life into roots music by keeping his mirror tilted towards the greats of the past while progressing into his own realm of Americana.
Based in Jackson Hole, Wyoming, Davis is a full-time performer and writer playing over 200 shows a year. Combining local gig residencies with tours through the Southeast, Rocky Mountains, and West Coast has created a great deal of opportunities for the Kentucky native—as a solo acoustic performer and with his rockin' ensembles.
Past performances include opening slots and show bills with Wilco, Willie Nelson, Yonder Mountain String Band, Medeski Martin & Wood, Brian Wilson, James McMurtry, Grace Potter & The Nocturnals, Kaki King, Reckless Kelly, Ben Winship, Blue Turtle Seduction, Mickey and the Motorcars, The Woodbox Gang and Anne & Pete Sibley. He has also performed live on Wyoming Public Radio (NPR), KMTN, and KHOL in Wyoming, Revolution 91.7 in Kentucky, and other regional stations.
Being frontman for several bands over the years (The Docks, Boondocks, Global Review, Screen Door Porch, Grilled Cheese), Davis decided to tap the scene for some of his favorite musicians, who contributed great performances to "Rear View Mirror." Known for his studio work with the Rolling Stones and live performances with Miles Davis, upright bassist Bill Plummer walked the line in "Leavin' the 9 to 5," "For Your Own Good," and "What the Hell, Grandpa," while mandolin master Ben Winship of Brother Mule and Loose Ties dished out licks on "Pass it On" and "What the Hell, Grandpa." The tight harmony singing of Margo Valiante is heard on eight tracks, as well as harmony from Seadar Rose and Michael Batdorf.
Opening track "1937," about life during the New Deal in Jackson Hole, received runner up honors at the 2008 Dreams Acres Music Festival Singer-Songwriter Contest in North Carolina. Alongside Brett Dennen and Xavier Rudd, Aaron also had one of his songs selected for the television series Road Trip Nation, which was featured online at MSN.com.
Chalked full of styles and textures from large, rockin' ensembles ("Mystery Woman") to stripped-down acoustic ("The Cardinal"), alt-country ("Still Drinkin' Your Whiskey") and rippin' slide guitar ("1937"), the 12-track disc is a ride through roots-based Americana. Push play and you'll hear folk, rock, blues, country, jazz and bluegrass.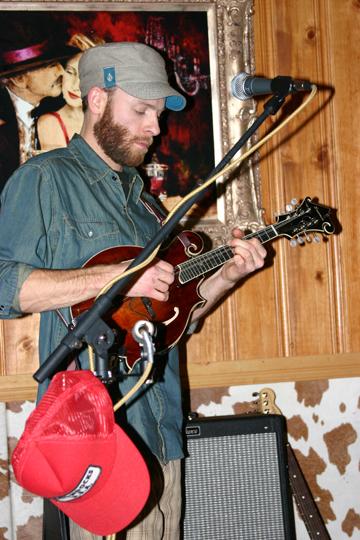 Always trying to reach the senses through lyrical groove and an expressive arsenal of sounds, his live show continues to create a buzz. While guitar is his bread and butter, Davis often layers his solo acoustic sound with a harmonica around his neck, and the occasional mandolin, banjo, kazoogle and foot percussion. Many have commented on Davis's organic-sounding bottleneck slide and his uncanny use of alternate tunings.
"Open tunings can create an entirely different energy for songs," he says. "I use the slide to add an element of edge to the mix, and there's more room for experimenting with pitch and raw sounds. I'll often take traditional songs in standard tuning and create new arrangements based on the original melody."
He is also the founder and producer of Songwriter's Alley, a regional songwriter concert series in Jackson Hole. The series gives up-and-coming songwriters the opportunity to perform in a listening, all-ages environment.
Davis's repertoire combines originals with creative arrangements of tunes by such artists as Dylan, Greg Brown, Woody Guthrie, The Rolling Stones, Townes Van Zandt, Neil Young, Wilco and old bluesmen such as Rev. Gary Davis and Blind Willie Johnson.
Aaron Davis's new release "Rear View Mirror," is available at cdbaby.com, digstation, iTunes, or by emailing him directly at ad@aarondavismusic.com.