Abigail Washburn Debuts Theatrical Work @ Joe's Pub in NYC
Submitted by Kid Logic on Thu, 02/28/2013 - 15:17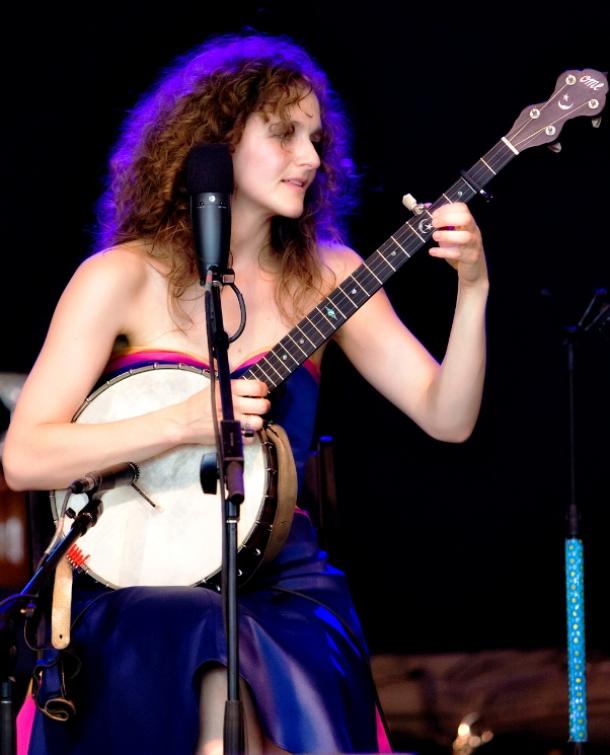 We are excited to announce Abigail Washburn will debut her first theatrical work, Post-American Girl, at Joe's Pub at The Public Theater March 28 – 30 as part of New York Voices, the venue's popular commission series designed to help musicians make the leap from songwriting and performance to theatrical production. Washburn's new stage piece is about an American girl coming-of-age in a swiftly changing global order. It features folk arts of China and Appalachia in shadow puppetry, sacred harp song, traditional music as well as new compositions.
Post-American Girl, written by and starring Washburn, draws from her 17-year relationship with China and addresses themes of expanding identity, cultural relativism, pilgrimage, today's shifting world order, the universal appeal of music and opening the heart big enough to fold it all in. The piece explores how a contemporary young American woman brings her conflicted feelings and simultaneous love of a changing China together with similar conflicted feelings and love of her own country's culture. The production will include Chinese Theatre Works' Kuang Yu Fong (founder and Master Vocalist); Stephen Kaplin (Puppeteer & Set Design); composer, violinist and violist Jeremy Kittel; Chinese percussion master Tian Gang; cellist Tristen Claridge and Guzheng master Wang Jungling. Post-Amerian Girl will be directed by Meiyin Wang, Associate Artistic Producer of The Public's Under The Radar.
"I started going back and forth between China and America in 1996 and have hoped for a chance to dive headlong into a fuller expression of this journey and the lessons learned," said Washburn. "My artistry is expanding inexplicably because of New York Voices. Joe's Pub and The Public have created an opportunity to expand my artistic vision by freeing me up to think unabashedly about ways to merge my musical and personal journey with theatrical performance."
MORE ABOUT NEW YORK VOICES
The New York Voices series at Joe's Pub at The Public presents new works from critically-acclaimed performers commissioned by Joe's Pub and supported in part by a grant from the National Endowment for the Arts. With New York Voices, Joe's Pub provides greater support for musicians and performers, allowing them the space, time and financial support needed to create new theatrical works that not only connect them to their fans, but to their contemporaries both locally and internationally. For the 2013 season, Joe's Pub has expanded the program through the addition of a development workshop with The Public Theater's artistic staff. Artists commissioned by New York Voices include Abigail Washburn, Bridget Everett, Noche Flamenca, Toshi Reagon, Lady Rizo, Allen Toussaint, Angelique Kidjo and Ethan Lipton who won an Obie for his New York Voices premiere No Place To Go.
Ticket information:
Online:  joespub.com
Phone:  212-967-7555
Box office:  The Public Theater, 1pm to 6pm, located at 425 Lafayette Street, NYC