Acoustic Africa @ The Boulder Theater | 3/16/11
Submitted by mike on Wed, 03/09/2011 - 18:37
The second installment of Acoustic Africa's exhilarating musical journey focuses on the richness of the African guitar tradition. The Acoustic Africa tour features Habib Koite, the Malian superstar whose exciting concerts have endeared him to audiences worldwide, Oliver Mtukudzi, the best-selling artist in his home country of Zimbabwe, and, a guitarist, singer, and composer from Mali whose songs evoke the Afel Bocoum evolution of traditional Malian society. The three artists, backed by a traditional African band, unite in song in a collaborative performance that honors their African heritage while simultaneously pushes contemporary musical boundaries.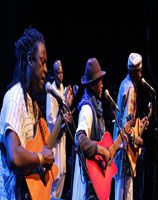 One of Africa's most exciting performers, Habib Koite plays music that reflects the diverse musical traditions of his Malian homeland. Accompanied by his band Bamada, Koite has released a number of successful and critically acclaimed albums and has appeared on the The Late Show with David Letterman and in major magazines such as People and Rolling Stone. Over the past 10 years, Habib and his band have performed over 600 concerts for adoring audiences in far-flung locations such as Japan, Australia, Brazil and Kazakhstan. With their engaging stage presence and expert musicianship, Habib Koite and Bamada always put on a show to remember.
Lovingly called "Tuku" for short, Oliver Mtukudzi began recording in the mid-1970s as a member of Wagon Wheels, a band that also featured Thomas Mapfumo. After Wagon Wheels rolled to fame in Southern Africa, Tuku formed Black Spirits, the band that has backed him throughout his career. Mtukudzi has been heavily influenced by chimurenga, the genre pioneered by Mapfumo that is inspired by the hypnotic rhythms of the mbira (thumb piano). His music also incorporates pop influences, South African mbaqanga, the energetic Zimbabwean pop style JIT, and the traditional kateke drumming of his clan, the Korekore. While Tuku's music is undeniably contagious, it is his lyrics that have captured the hearts of his people. The words to his songs invariably deal with social and economic issues. One of Tuku's biggest fans is Bonnie Raitt, who has not only called Oliver "a treasure", but has also used his music as inspiration for the song "One Belief Away" on her album Fundamental.
Afel Bocoum began his music career with his uncle Ali Farka Toure, in his group Asco, a collaboration which lasted some thirty years. In the 1980s, he founded his own group, which he named Alkibar, in which he plays the guitar, composes, and sings. Bocoum sings mainly in Sonrai, his mother tongue, but also in Tamashek, the language of the Tuareg, and in Bambara. In spite of his growing success, Bocoum remains gentle and unassuming, modestly directing the energy this recognition brings him towards the welfare of his people and the inspiration they give to his music. In the dancing melodies of the river and the palpitating rhythm of the hard desert wind, there is no doubt that the heritage of Ali Farka Toure is in good hands. With remarkable subtlety and a sure talent, Afel Bocoum has proved that he is a true "Messenger of the great river", and it's certain he will actively contribute to keeping Malian music at the forefront of the international scene.