Adam Green: Debut Art Exhibition 'Teen Tech' At New York's Morrison Hotel
Submitted by mike on Wed, 04/14/2010 - 02:10
Folk-rock troubadour Adam Green's debut art show, Teen Tech, will open at the Morrison Hotel Gallery Bowery (313 Bowery, former home to the famed CBGB's gallery) in his hometown of New York, NY, on April 22nd. Following a private opening night party, the exhibition will be available to the public April 23rd and 24th. Teen Tech showcases another artistic side of singer/songwriter Green, already known for his prolific (six albums in eight years) career as a solo musician and for his work as half of the band Moldy Peaches. Last year, he composed the soundtrack for a German theatrical adaptation of Paul Auster's novel Timbuktu, which he titled Musik For A Play. Fat Possum Records released Green's most recent solo album, Minor Love, in February.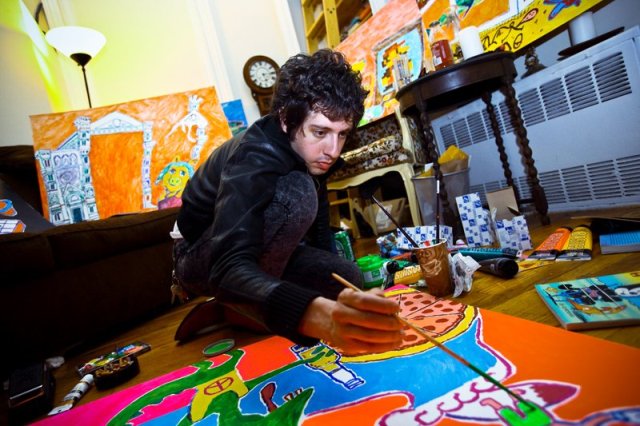 The exhibition will consist of original works by Green: 12 sculptures of plaster, papier-mâché, or papier-mâché and mixed materials; 18 large-scale (30" x 40") acrylic or watercolor paintings; 19 drawings; and 20 collages (created together with model Cory Kennedy). The art will be for sale and a portion of the proceeds will be donated to the charitable organization Artists for Peace and Justice, which directs 100% of all funds raised towards rebuilding and maintaining long-term sustainability in Haiti. Friend and peer Binki Shapiro of Little Joy introduced Green to the organization when he donated a hand-designed t-shirt for her recent, highly successful Crafts For A Cause online auction that donated all proceeds to Artists for Peace and Justice. Green and Shapiro decided to work together again here in an effort to continue giving. Following the show's close, any remaining pieces will be available here.
Green says of the exhibition, "Teen Tech is an art show I've prepared over the last year and a half. Perhaps because I'm an entertainer in showbiz, I found myself trying to make this art show more entertaining than average. It focuses on cartoon subjects. I don't often read comics but I've always liked to draw cartoons. I contend that all artists work in caricature. The pieces in Teen Tech are caricatures of cartoons, which I feel distill the subjects down to their bare essence."
Teen Tech coincides with Green's two-night, hometown headlining stand at the Bowery Ballroom. These two gigs, April 23rd and 24th, will be the final of his current U.S. tour in support of Minor Love. The album has earned Green plenty of praise, with BlackBook writing, "...the real genius of Minor Love isn't the album's embrace of disparate genres (although that's impressive, too), it's how charming and easy Green makes all this variety sound" and Filter adding, "...Green revels in a stripped-down, bittersweet world where nothing lasts forever, with both his baritone and lyrics adding freshness to his fatalist outlook." Remaining tour dates are below.
Adam Green tour dates:
APR. 13 DENVER, CO LARIMER LOUNGE
APR. 14 KANSAS CITY, MO RECORD BAR
APR. 15 CHICAGO, IL SCHUBAS
APR. 16 CLEVELAND, OH GROG SHOP (early show)
APR. 17 TORONTO, ONT MOD CLUB
APR. 19 MONTREAL, QUE PETIT CAMPUS
APR. 20 BOSTON, MA GREAT SCOTT
APR. 21 PHILADELPHIA, PA JOHNNY BRENDA'S
APR. 23 NEW YORK, NY BOWERY BALLROOM
APR. 24 NEW YORK, NY BOWERY BALLROOM