Adam Steffey: ONE MORE FOR THE ROAD
Submitted by press on Mon, 07/20/2009 - 21:56
He's one of the most widely admired mandolin players around, and the most influential in a generation or more, but when Adam Steffey finally got around to making his second solo album in eight years, he knew just what he did--and didn't--want.  "I wanted to go in and make a record, and have all these people that I work with be on it," he says, "but I didn't want to make an instrumental album, because I think those can get monotonous.  I know I'm known primarily as a player, but I wanted to have just enough picking on there to where everybody could turn loose, and then mostly have some good solid vocal things.  If people listen to this album and take it as a reflection of the way I look at everything about music, and not just as a showcase for how I play, then that would be the highest compliment that could be paid."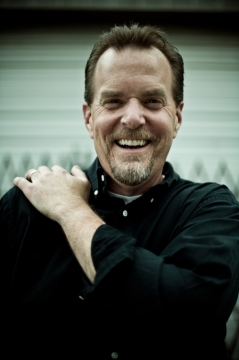 It's hard to imagine listeners not getting that--and a whole lot more--from One More For The Road, Steffey's Sugar Hill Records debut that hits the streets on September 22nd. Balancing instrumentals with vocal numbers and carefully chosen classics with strong originals served up by Steffey and a brilliantly chosen supporting cast, including former bandmates from Alison Krauss & Union Station and Mountain Heart alongside current colleagues in the Dan Tyminski Band, it's a stunning portrait of a musician who's not only a master player and convincing singer but perhaps most importantly, a team player who knows exactly when to lead and when to lay back.
With support from producers Gary Paczosa and Union Station/Dan Tyminski Band bassist Barry Bales--a friend and picking partner of Steffey's for close to 30 years--Steffey and friends tackle a well-crafted set list that shows off a rare ability to not only find under-appreciated songs, but to match them perfectly with players and singers.  And while attention will surely fall on vocal contributions from Krauss, who offers a lush reading of a decades-old Bluegrass Cardinals find ("Warm Kentucky Sunshine"), Tyminski and Ronnie Bowman, whose shimmering "Please Don't Tell Me How The Story Ends" sets a new standard for the Kristofferson classic, it's actually the mandolinist himself who serves as the most frequently featured singer.  "I try to be realistic about my voice," Steffey says, "and I'm not the ballad singer at all," but his evocative baritone is perfectly suited for the originals (including one self-penned entry) and bluegrass ought-to-be-classics like Mark Rader's early 90s favorite, "A Broken Heart Keeps Beating."
On the instrumental side, Steffey drew on a circle of colleagues who have interacted musically and personally for years--and whose playing shows it in every note.  "I wanted everybody to be throwing different things in, and to mix it up some with different combinations," he notes.  "But all the guys that I got to play on this album, they listen as hard as they focus on what they're going to play.  They're sensitive to everything that's going on around them, which makes playing so easy--and they're just so good. I'm ready to jump out of my seat when I hear these guys playing."
Indeed, whether they're going to town on a slinky modern tune like the opening original, "Deep Rough," or a durable but under-recorded standard like "Durang's Hornpipe," the ensembles Steffey, Bales and Paczosa concocted for One More For The Road serve up models of precision, feeling and groove, born out of years of playing together and a more elusive but equally real musical empathy.  Yet despite--or, perhaps, because of--his commitment to the ensemble dynamic, there's no doubt that this is Adam Steffey's album.  His unique taste, along with his melodic gifts and unexcelled feel for rhythm, inform the project from first note to last.
"I know all the guys that are on here, they're thinking, they're listeners, and I want everybody to get that feeling from the record," Steffey says.  "I'll be happy if the people who hear it can tell that I was listening and not getting in the way, that I was just trying to make the song the best it can be."  It's a safe bet that they'll be able to tell that--and a whole lot more besides.