Al Di Meola Brings Impassioned Live Show Nationwide
Submitted by mike on Thu, 01/20/2011 - 02:40
Al Di Meola, one of guitar's legendary greats, embarks on his 2011 national tour with the renowned World Sinfonia this February making stops in over 20 U.S. cities, including a four-night residency at NYC's Blue Note.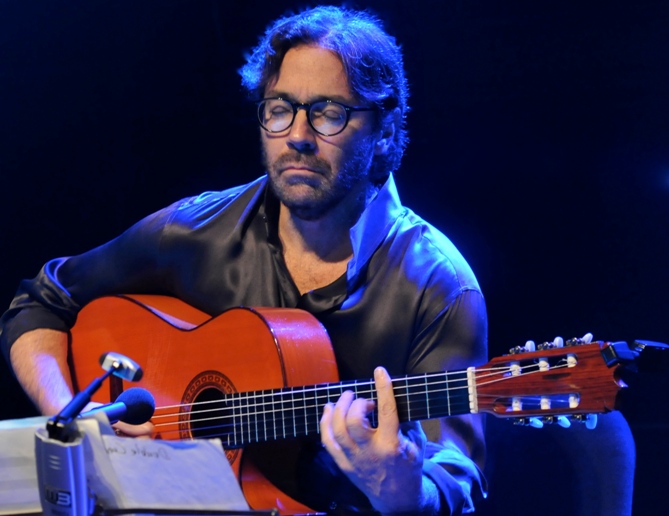 Whether it's your first World Sinfonia experience or you've seen the group 20 times before, each show will impress with "impassioned, intricate tunes that [wed] jazz, rock and folk traditions" (Hartford Courant). Audiences will be awestruck by the Di Meola's "energetic, emotional roller coasters brimming with fiery passion, delicate arrangements and his inspiring technique" (Arizona Daily Star).
Watch a live performance of "Gumbiero" (from 'Pursuit of Radical Rhapsody')
A pioneer of melding world music and jazz, Al Di Meola dazzles guitar aficionados with his unparalleled technique on both acoustic and electric guitars, as well as his soulful lyricism and sophisticated musicality.  On stage, Di Meola will perform songs from his forthcoming album "Pursuit of Radical Rhapsody," out March 15th on Telarc International, a division of Concord Music Group.
--

AL DI MEOLA TOUR DATES 2011
2/17 - Agoura, CA @ Canyon Club
2/18 - Las Vegas @ Green Valley Ranch
2/19 - San Diego, CA @ Anthology       
2/20 - San Juan Capistrano, CA @ Coach House
2/21 - Exeter, CA  @ Orange Blossom Junction
2/23 - Portland, OR @ Orange Blossom Junction
2/24 - Seattle, WA  @  Dimitriou's Jazz Alley
2/25 - Seattle, WA @  Dimitriou's Jazz Alley
2/26 - Seattle, WA @ Dimitriou's Jazz Alley
2/27 - Seattle, WA  @   Dimitriou's Jazz Alley
3/2 - Grants Pass, OR @ Rouge Theater
3/3 - Arcata, CA @ Arcata Theatre Lounge
3/4 - Oakland, CA @ Yoshi's
3/5 - Oakland, CA @ Yoshi's
3/6 - Oakland, CA @ Yoshi's
3/10 - New York, NY @ Blue Note
3/11 - New York, NY @ Blue Note
3/12 - New York, NY @ Blue Note
3/13 - New York, NY @ Blue Note
3/15 - Vienna, VA  @ The Barns- Wolftrap
3/16 - Vienna, VA @The Barns- Wolftrap
3/18 - Nashville, TN @  Schermerhorn Symphony Center
3/19 - Atlanta, GA @  Variety Playhouse
3/20 - Newberry, SC @ Newberry Opera House
3/22 – Fall River, MA – Narrows Center for the Arts
3/23 - Boston, MA  @  Scullers Jazz Club
3/24 - Boston, MA @ Scullers Jazz Club
3/25 - Albany, NY @ The Egg Theatre
3/26 - Buffalo, NY  @ Buffalo State Performing Arts Center
3/27 - Reading, Pa @ Miller Center for the Arts
3/28 - New Hope, PA@ Havana
3/29 - Fairfield, CT @  Stage One
3/30 - Norfolk, CT @ Infinity Hall
4/1 - Miami, FL @  Adrienne Arsht Center for the Arts
4/3 - Austin, TX @  One World Theater