Alan Evans Trio Announce New Album & Tour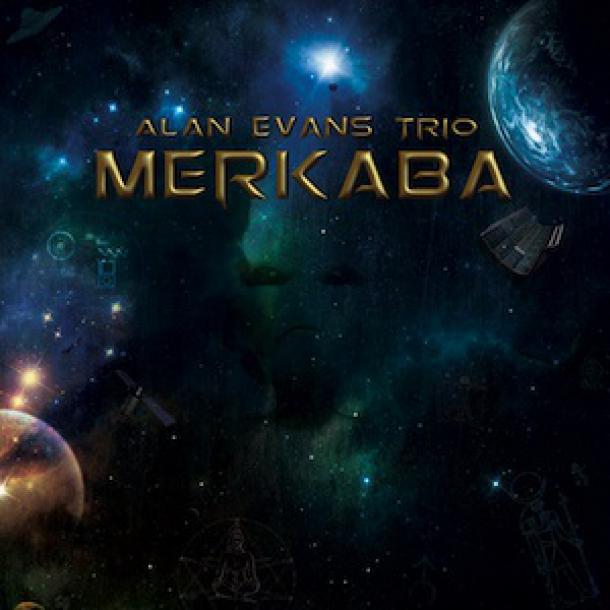 Alan Evans Trio kicks off their national tour in support of their upcoming album, Merkaba, beginning February 28, 2013, with over 10 stops in Los Angeles, San Francisco, San Diego, Washington D.C, and many more.
Alan Evans Trio's much-anticipated follow-up album, Merkaba (Royal Family Records), hits Earth on Tuesday, March 19, 2013, and will be available on CD, vinyl, and digital in select retail outlets around the globe, and neighboring solar systems.
Digital pre-order now available on iTunes
Pre-sale packages will be available March 1, 2013 here
Vinyl + Digital Download + T-shirt + Merkaba Poster - $38.00
CD +  Digital Download + T-shirt + Merkaba Poster - $28.00
Alan Evans Trio will also host a listening party for their new release Merkaba on Turntable.fm on March 5, 2013, giving fans exclusive access to listen and participate as the band streams a portion of the album before it is set to be released. Listeners will have a chance to comment and engage with the band members themselves, in real time. AE3 enthusiasts will be encouraged to keep the turntables spinning by sharing their own music after the listening party has concluded.
The perfect road trip album for the everyday space traveler, Merkaba takes listeners on a cosmic funk adventure. With spacey Hammond organ overlays and celestial chord progressions provided by Beau Sasser (Melvin Sparks Band, Akashic Record), zero-gravity guitar riffs by Danny Mayer (On the Spot Trio) and the rocket powered beats of legendary drummer Alan Evans (Soulive), the Alan Evans Trio follow up album to the critically-acclaimed Drop Hop, invites listeners to experience an interstellar musical voyage as deep as space itself.
Produced, recorded, and mixed by the legendary drummer of Soulive, Alan Evans contributed musically to nearly every instrument on the album. Additionally, Merkaba features special guest traveler and luminary hip hop guitarist, Mike Feingold (Jay-Z, Erykah Badu), on banjo, guitar, and keyboard.
In a message sent from the future, Alan Evans comments on Merkaba, "I can't wait for everyone and anyone to hear this album. This album is all of me. This album is for the loves of my life and there are songs on here that I never thought would see the light of day, but the alignment of the universe made the timing just perfect!"
An interstellar transmission of Alan Evans Trio's signature sound, Merkaba is a head-bobbing, funkadelic soundtrack for Earthlings everywhere.
TOUR DATES
Thurs    2/28/2013       Fairfield, CT                    Stage One                  w/ Fishbone
Fri          3/1/2013         Providence, RI               Fete Ballroom             w/ Fishbone
Sun       3/3/2013          Washington D.C.           The Howard Theatre  w/ Fishbone
Thurs    3/28/2013       San Diego, CA               The Griffin                    w/ Sister Sparrow & The Dirty Birds
Fri          3/29/2013       West Hollywood, CA     The Roxy Theatre       w/ Sister Sparrow & The Dirty Birds
Sat         3/30/2013       San Francisco, CA        The Independent        w/ Sister Sparrow & The Dirty Birds
Sun        3/31/2013       Santa Cruz, CA             Moe's Alley       
Wed       4/3/2013         Arcata, CA                      Jambalaya
Fri          4/5/2013         Denver, CO                     Quixote's
Sun        4/7/2013         Frisco, CO                      Barkley Ballroom
Wed       4/10/2013       Chicago, IL                     Martyrs
Sat         4/13/2013       Kerhonkson, NY            Rock & Roll Resort
Wed       4/17/2013       Syracuse, NY                The Wescott Theater
Thurs     4/18/2013       Buffalo, NY                    Nietzsche's
Fri          4/19/2013        Albany, NY                    Red Square