All-Female UK Rock Band Release Single on Xbox's 'Rock Band 3'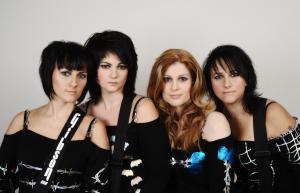 Xbox 360 Rock Band fans get ready! The first all-female UK band to grace the stage of Rock Band is back with a new single for Rock Band 3. Beginning June on 22, 2012, "Say Sayonara" will be available for download on Xbox Live.
JOANovARC is no stranger to the Rock Band stage with their single "Sisters" premiering in 2011. Now players will be thrilled to hear their hit "Say Sayonara" on the June 22nd release. The launch party for the track will be held at the prestigious 100 club in London.
Expressing their excitement to be in the company of other Rock Band performers, JOANovARC said, "We love Foo Fighters, Kings of Leon, AC/DC, Paramore, The Pretenders, and Nickleback. Joan Jett is on Rock Band and we would love to tour with her, she is a legend!!"
JOANovARC is quickly joining the ranks of renowned female rockers like Joan Jett by displaying incredible musicianship and shattering the stereotypes of most female musicians today. They boldly hold their own in a male dominated genre of music. "We feel that JOANovARC is part of a revelation that will change the stigma that all female bands have been tarnished with. It's important for women in rock to be true to themselves musically and not feel that they have to write or perform in a way that the male dominated music industry expect them to."
JOANovARC has been tearing up UK stages and has made a few stops in the US, recently performing at the Florida Music Festival. American fans can look forward to a full tour in the near future. As for their performance on Rock Band 3, in one word it can be described as "Epic!"
"Say Sayonara" is available for download on iTunes or to purchase the full CD visit www.joanovarc.co.uk