Allen Thompson | Salvation in the Ground | New Music Review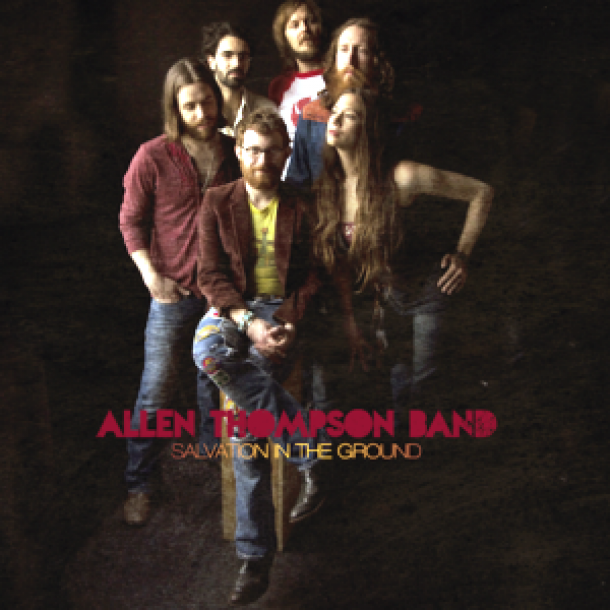 Allen Thompson is on a new departure with his upcoming album Salvation in the Ground, due to be released on September 4, 2012.  In this new project, Allen made a conscious decision to use the powerful energy of increased collaborative effort, resulting in a cohesive album with a well-rounded sound, and most importantly, it is fun to listen to.  Thompson seems to have hit a sweet spot with a new philosophy: more is more.  Starting with a three-piece string band, Allen added a rhythm section and a fourth harmony vocalist, and he is now working with an electric 6-piece band.  The album boasts multiple guitars, mandolin, fiddle, banjo, keyboard, piano, organ, accordion, and a variety of percussion/drums.  Thompson leads with his vocals, but he is also working with up to four vocal harmonies in any given song. The result is a decidedly 1970's California feel.  The Allen Thompson Band* has the communal, folk-rock sense of artists such as Crosby, Stills, Nash, and Young, The Byrds, and The Band.
Salvation in the Ground is the kind of album that grows on you.  At first, it is palatable and catchy, with its easy country-rock feel and just a hint of pop, making it very accessible.  Then after listening a few more times, I found myself humming tracks, certain favorites looping through my head.  With repeated presentation, it seems to have burrowed its way under my skin and into my heart.  The album tackles the everyday trials and tribulation our hearts drag us through, along with everyone else, yet they somehow seem so singular to us.  It strikes a winning balance with emotional, personal lyrics and rich layers of instrumentation.  Thompson's soulful vocals are a perfect compliment; they are emotional and honest, but with an element of restraint. The vocal harmonies are sneaky, with a subtly increasing energy that suddenly grabs your attention, but then you realize they've been building up to that point purposefully since the song started.
The album consists of 9 thoughtful tracks that play adeptly together in their entirety.  One of my favorites is "Dirt to Dust," from which the album's title was extracted.  This song starts out with a comfortable folk feel, but skillfully builds to a more soulful crescendo.  "Everyone Knows" is also lovely, and a great change of pace, featuring Allen's vulnerable vocals and unadorned piano, a stark contrast from the group effort of the rest of the album.  Touching lyrics (e.g. "I know everything changes, but sometimes it happens so slow") bring the song together, and make it difficult to forget.  "When I'm Young" is the perfect follow up with some upbeat guitar strumming, leading into a complex weave of other instrumentation, and punctuated by heart-felt vocal harmonies during the chorus.  These specific songs spoke to me, but I could honestly write like this about the majority of the album.  Salvation from the Ground is a gem, with music that becomes richer and more personal as you get to know it better.
*The Allen Thompson Band consists of: Allen Thompson (vocals, guitars), Clint Maine (guitars, banjo, percussion, vocals), Grayson Downs (bass, vocals), Joe Andrews (guitar, mandolin, keys, vocals), Laura Maine (vocals, percussion) and Ray Dunham plays drums live.  Other contributes to Salvation in the Ground: Don Gallardo (lyrics, vocal), Fred Eltringham (drums on the record), Luisa Lopez (lyrics, vocal), Luke Bulla (fiddle), Marion Grace (vocals) and Micah Hulscher (piano, organ, accordion and electric piano).