Allies For Everyone | Scavenger (The Remix EP) | Review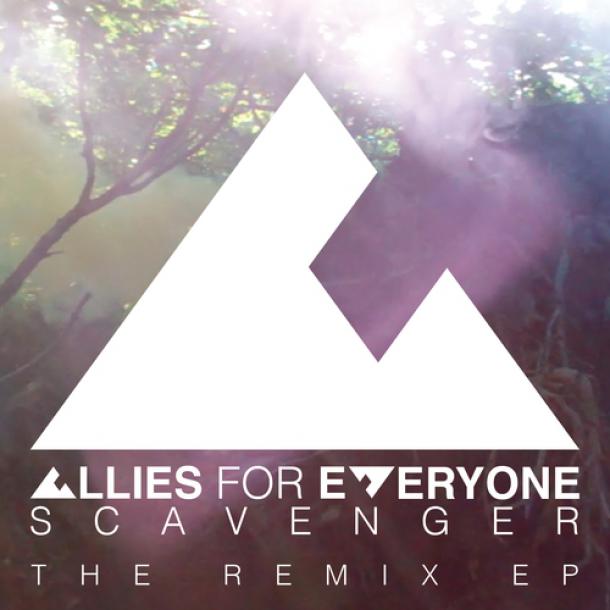 Combining the sounds of 90's dance progressive house with modern age electro has given singer/songwriter/producer Brian Suarez quite a reputation in the electronic music today. Catch Allies for Everyone live and you will see him combine forces with Arvin Ajamian to form a synth-heavy wonderland of beats and bass. Eclectic pop music with a twist, Allies For Everyone blends the roots of house music with today's modern feel of electro house. Celebrating the release of his new Scavenger EP, the synth-pop producer is also releasing a remix EP featuring mixes by artists such as Tommy Sunshine, Downlow'd, The Night Owl, and Son of Sound. The release party is scheduled to be held on December 7th in New York City at the Le Baron, and will feature many of the artists heard on the record.
The Scavenger Remix EP shows Allies teaming up with a number of different DJ's and producers to create a number of different sounds and versions of the single Scavenger. Legendary producer and pioneer Tommy Sunshine works his magic on the title track, and what's created is an electro-house phenomenon that can be heard from miles away. A Heavy bass line and big drops give this track a more modern age feel and vibe than the rest of the remixes on the release. However, not every remix on the EP is built to blow eardrums and rock clubs. Brooklyn based house DJ Son of Sound jumps on the track and twists the melodies into a 80's melodic dance masterpiece, perfecting the use vocal samples and old school synthesizers. One half of the group NIGHTRIDERS, Matt Johnson aka The Night Owl shows off his production skill as well, combining elements of indie, pop, and electronica to form a lighter, more free flowing version of the track. All the DJ's featured on the EP bring their own elements of style to the table, and what's created is a unique twist on an already stand out title track. It's as if we are brought back to the dance floors of the mid to late 80's with a twist of modern age house music.
If you're looking for infectious house music with charisma, personality, and pop synth attitude then check out these remixes and report to the dance floor. With the remix EP set be released on December 4th, and the already released EP Scavenger racking up rave reviews, this electro-pop producer is sure be tearing up a club near you in the near future.