Alpha Rev Announces Spring Tour Dates
Submitted by LiveLoud on Fri, 02/08/2013 - 18:20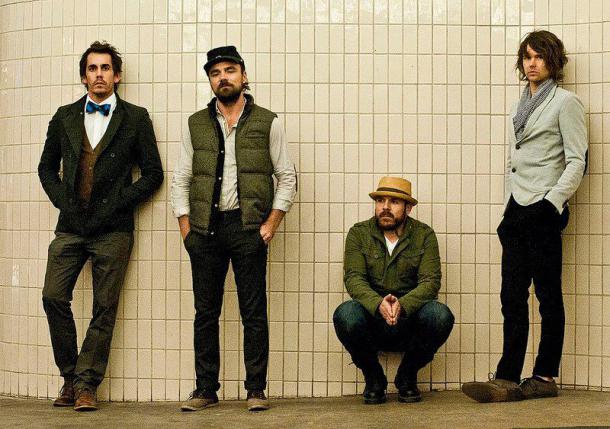 Today, Alpha Rev announces a massive tour with Nashville singer-songwriter Ben Rector; a sure-to-be stunning American music caravan that winds through 30 cities in southern, east coast and Midwest U.S. states. The tour begins March 20th, just one day after Alpha Rev releases their third album, Bloom (March 19, 2013 / Kirtland Records). For the week of the album's release, look for Alpha Rev hanging around their home-town of Austin, TX during SXSW - including a very special in-store performance at Waterloo Records on March 19th and additional appearances still to be announced. Alpha Rev's current list of spring tour dates is included below.
Bloom's shimmering, hymn-like first single - "Sing Loud"- is already reaching the ears of music fans as it steadily climbs radio charts.
Alpha Rev knows radio success. Their 2010 release New Morning resonated with masses of listeners; the album rose to #3 on the Triple A chart, reaching an audience of 40 million strong. For Bloom the Texas natives deliver a set of personally transformative and redemptive songs - born in the spirit of creative expansion - and a mandate to blossom and grow.
"To bloom implies something beautiful is going to happen, but it's a process – like all our journeys," says Alpha Rev singer-songwriter Casey McPherson.
With a glistening rock sound that is at once fragile and tough, Bloom picks up threads from the past while it takes a big bite into the eternal here and now. Drawing from the wellspring of American history, the grandeur of its landscape, and life's sweet and tragic mysteries, Texas-born McPherson leans into his personal challenges as well as the wages of the 21st century and emerges with a triumphant and timeless statement.
"Casey and I met when we were really young, and have been playing music with each other off and on over the past 13 years," explains guitarist Zak Loy. "That growth comes across in the music the group is creating now," he says. Rooted in lyrical wisdom, the more recent addition of drummer Tabber Millard---trained by master percussionists---is credited for the band's contemporary tribal rhythms. "Tabber means drummer boy in Arabic and his life revolves around this gift he has," says McPherson. Newest Alpha Rev addition Jeff Bryant rounds out the band, playing pedal steel, piano, organ, and bass.
On Bloom, Alex Dunlap holds down the bass, while Brian Batch (violin, viola) and Dave Wiley (cello) serve as the band's string section. The players were joined in the studio by a longtime friend of McPherson's, Dwight Baker (Brandi Carlile, Bob Schneider); he oversaw the project in his Austin studio. "Austin is a great city that takes care of musicians; it helps foster ideas and creativity," says McPherson.
Current Alpha Rev tour dates are as follows:
Friday, February 22 Sunset Sessions San Francisco CA
Tuesday, March 19 Waterloo Records In Store Austin TX
Wednesday, March 20 Common Grounds Waco TX with Ben Rector
Thursday, March 21 Grand Stafford Theater Bryan TX with Ben Rector
Friday, March 22 The Belmont Austin TX with Ben Rector
Saturday, March 23 House of Blues - Dallas TX with Ben Rector
Sunday, March 24 Spring Jam Music Fest Charleston SC
Tuesday, March 26 Granada Theatre Lawrence KS with Ben Rector
Wednesday, March 27 - Thursday, March 28 George's Majestic Lounge Fayetteville AR with Ben Rector
Friday, March 29 University of Oklahoma Norman with Ben Rector
Wednesday, April 3 The Lyric Theatre Oxford MS with Ben Rector
Thursday, April 4 Bourbon Street Bar Auburn AL with Ben Rector
Saturday, April 6 Amos' Southend Charlotte NC with Ben Rector
Sunday, April 7 WorkPlay Soundstage Birmingham AL with Ben Rector
Friday, April 12 Cannery Ballroom Nashville TN with Ben Rector
Wednesday, April 17 Bijou Theater Knoxville TN with Ben Rector
Thursday, April 18 The Handlebar Greenville SC with Ben Rector
Friday, April 19 Center Stage Atlanta GA with Ben Rector
Saturday, April 20 Lincoln Theatre Raleigh NC with Ben Rector
Tuesday, April 23 Jefferson Theater Charlottesville VA with Ben Rector
Wednesday, April 24 9:30 Club Washington D.C. with Ben Rector
Thursday, April 25 Bowery Ballroom New York NY with Ben Rector
Friday, April 26 The Sinclair Cambridge MA with Ben Rector
Saturday, April 27 Monnalisa Bar @ Hotel Sorella Houston TX
Monday, April 29 Mod Club Toronto ON with Ben Rector
Wednesday, May 1 The Intersection Grand Rapids MI with Ben Rector
Thursday, May 2 Majestic Live Madison WI with Ben Rector
Friday, May 3 Varsity Theatre Minneapolis MN with Ben Rector
Saturday, May 4 Park West Chicago IL with Ben Rector
Tuesday, May 7 Bluebird Theater Denver with Ben Rector
Thursday, May 9 Cain's Ballroom Tulsa OK with Ben Rector
Friday, May 10 Old Rock House St. Louis with Ben Rector
Saturday, May 11 Blue Note Columbia MO with Ben Rector