AM Taxi Announces Debut Album & Spring Tour Dates
Submitted by mike on Thu, 02/18/2010 - 03:38
AM Taxi
— so-called because they're all about moving across the U.S. towards their destination—gets ready to hit the road…hard. The guys will be touring in support of
Spill Canvas
late Spring with
additional dates for this Summer's
Warped Tour
, starting June 24 through August 15.
AM Taxi
are one of the few groups booked for the entire prestigious concert series prior to releasing an album. They've already been out on the road with the likes of
Sum 41
and
The Ataris
, while opening for
The Offspring
at
Summerfest
in Milwaukee, so they're more than up for the task.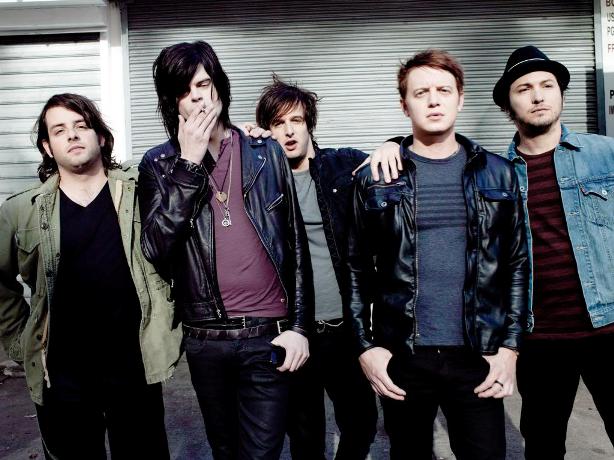 "Our goal is to take that 45 or 60 minutes and let people get away for a little bit," says lead singer and guitarist
Adam Krier
, "maybe even convert some of 'em to AM Taxi fans. And, if they dig what we're doing, maybe they'll check out some of the stuff that influenced us."
Take one listen to
AM Taxi's
Virgin records debut,
We Don't Stand A Chance
to be released June 8, 2010 and you can hear reverence for the past and hope for the future, a band that can cut across any age or genre demographics. The band just wrapped their video for the single
'The Mistake.'
With a blend of old-school punk, world beat and modern pop influences, the Chicago-based band combines experience with exuberance.
"I try to write songs about things people can relate to," nods Adam. "For me, the best music, at the end of the day, is therapeutic. That's always in the back of my mind a little when I'm sitting down to write."
Recorded in Austin, TX, with renowned producer
Mike McCarth
y (Spoon, Patty Griffin,...And You Will Know Us by the Trail of Dead),
AM Taxi's
major label bow, offers a variety of different styles, from old-school punk to world beat and modern pop. "The Mistake" is a heart-on-the-sleeve confessional that recalls
the Replacements
, while "Fed Up" is a
Springsteen
-by-way-of-
The Hold Steady
classic rock raver, "Dead Street" sports a
Police
-styled world beat and "Charissa" a
Clash
-esque reggae rhythm.
TOUR DATES
April 21 - The Hub Cedar - Falls, IA
April 23 - Bluebird Theater - Denver, CO
April 24 - Murray Theater - Salt Lake City, UT
April 25 - The Venue - Boise, ID
April 26 - El Corazon - Seattle, WA
April 27 - Hawthorne Theatre - Portland, OR
April 29 - Slim's - San Francisco, CA
April 30 - The Roxy Theatre - West Hollywood, CA
May 1 - The Boardwalk - Orangevale, CA
May 3 - The Rock - Tucson, AZ
May 5 - The Loft - Dallas, TX
May 6 - Meridian - Houston, TX
May 7 - The White Rabbit - San Antonio, TX
May 8 - Emo's - Austin, TX
May 10 - The State Theatre - St. Petersburg, FL
May 11 - The Social - Orlando, FL
May 12 - Masquerade - Atlanta, GA
May 14 - The Recher Theatre - Towson, MD
May 15 - Stone Pony - Asbury, NJ
May 17 - First Unitarian Church - Philadelphia, PA
May 18  - The Middle East- Downstairs - Cambridge, MA
May 20 - The Basement - Columbus, OH
May 21 - St. Andrews Hall - Detroit, MI
May 22 - Metro - Chicago, IL