Amanda Palmer - CD Release Concert at Berklee Performance Center
Submitted by mike on Tue, 11/09/2010 - 03:13
A chance meeting with Amanda Palmer has led to the chance of a lifetime for Berklee summer student and Saratoga Springs, NY-based pianist Tristan Allen. Walking home from a rehearsal in late August, Palmer met a group of Berklee summer students on the last day of the college's five-week program. She decided to take a picture of three teens who were hugging on a bench. They obliged, and as she walked away, one of the teens, Allen, ran up after her, having been told "she plays cabaret piano music." When Palmer informed him she was in the Dresden Dolls, Allen was shocked -- he had been a fan of the band for ages -- and asked if she'd be interested in hearing his original piano music.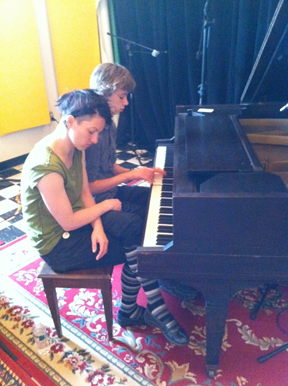 With no practice spaces available, Palmer said, "My house is six blocks away. I have a piano. Let's go there." So they did. Allen performed, and his music so impressed Palmer that she asked him if she could webcast to her fans on the spot. For the next hour, he played original compositions and improvisations for Palmer's online fanbase (over 450,000 Twitter followers), insuring that many would witness the event.
The response was ecstatic and demand for Allen's music was such that Palmer invited him to a studio a few weeks later to record a five-song EP. It was funded directly from her fanbase using Kickstarter, generating over $8,000 in 48 hours. The EP, recorded in September in Boston with engineer Owen Curtin and produced by Amanda Palmer, includes four of Allen's compositions and one four-handed piano duet, "János vs. Wonderland," that Palmer and Allen wrote together and recorded exclusively for the album.  You can download the MP3 of "János vs. Wonderland" duet with Amanda Palmer HERE for a taste of what you will hear on the rest of the self titled EP, Tristan Allen!
The CD release concert, An Evening with Amanda Palmer and Tristan Allen, will take place Sunday, December 12 at 7 p.m. at the Berklee Performance Center (BPC).  The concert will be streamed live via Ustream. Ticket proceeds will fund a Berklee Five-Week Summer Performance Program scholarship. The album will be available in physical and digital format on KickStarter!
--
Tristan Allen
Tristan Allen's music is solo piano (no vocals), blending heartful passages of improvisational rhythm and textural, cinematic drama, inviting comparisons to his heroes Philip Glass, Steve Reich, Eric Satie, and Yann Tierson. His upbringing added to his artistic coffers; his Montreal-native mother is a dance professor at a university, and his father is a top scenic designer. The family lived in Japan for several years. Allen, currently a senior at Saratoga Springs High School, plans to study piano performance and electronic music in college.
Amanda Palmer
Amanda Palmer is a performer, director, composer, and musician who is best known for her role as front woman and keyboardist for the internationally acclaimed punk cabaret band the Dresden Dolls. In 2008, Palmer released Who Killed Amanda Palmer, her debut solo album which was produced by Ben Folds. Palmer is currently on a reunion tour with The Dresden Dolls and recently ended a sold-out run of 43 shows in which she starred as the Emcee in the American Repertory Theater's production of "Cabaret" in her native Boston.

--

Berklee Performance Centeris located: 136 Massachusetts Avenue, Boston
General admission tickets are $10 and will be available starting Nov. 5 at the BPC box office and through Ticketmaster (800-745-3000 or ticketmaster.com). A limited number of free tickets will be available for Berklee students, faculty, staff, and alumni. For more information, visit Berkleebpc.com or call 617-747-2261. The venue is wheelchair accessible.