Amy Ray's 'Lung of Love' Streets February 28th, 2012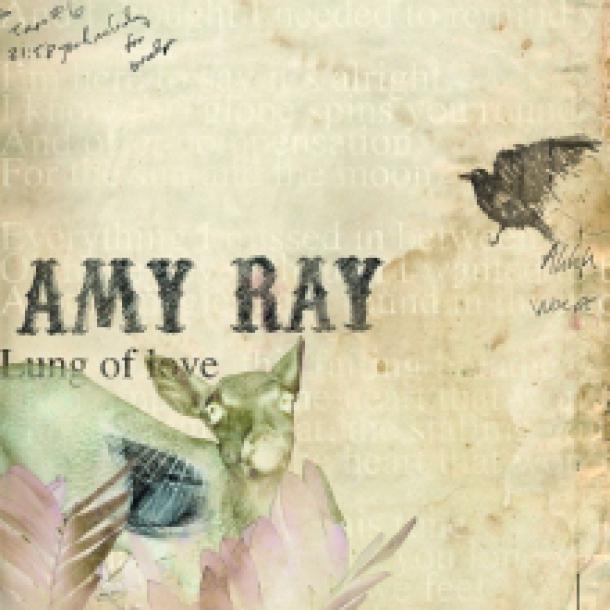 Amy Ray, with her impressive body of solo material, has clearly established herself as the "rock" half of Grammy-winning folk duo Indigo Girls. While the heart is clearly the favorite in the pantheon of body parts romanticized in song (See: All Pop Songs), the lung is as overlooked and misunderstood as a gangly feminist at a beauty pageant. But in Lung of Love, Ray's sixth solo album in a decade, the punk-folk icon gives the humble apparatus its due and delivers her most rocking, immediate album yet.
One of the most recognizable voices in pop music, Ray has never been an artist to rest on her laurels and Lung of Love is no different, featuring tracks ranging from distorted guitar rave-ups to an Appalachian come-to-Jesus throwdown. Street date is February 28, 2012 on Ray's own Daemon Records imprint. Tour dates, including Ray's first performance at SxSW in over a decade in March 2012, will be announced soon.
The former suburban Georgia tomboy has always been on the side of the underdog and the songs on Lung of Love continue in that vein. In the mid 1970s, Ray was a Georgia 'tween, plucking out Partridge Family songs on her guitar and dreaming of becoming David Cassidy, the teen idol who got all the girls. She loved psychedelic hippies like Janis Joplin and Jimi Hendrix, too. Ray began writing songs about injustice and the tragedy of unrequited love and playing her music in the schoolyard. "Even then, I had a sense that what I was writing was not for authority," says Ray. "I wrote for me and my peers."
Lung of Love is no different; it's got a heart, a conscience and it's current. The album finds Ray reunited with producer Greg Griffith, who worked with her on 2008's Didn't It Feel Kinder, but this time Griffith also acts as co-writer, the first time Ray has ever collaborated as a songwriter. (She and Indigo Girl Emily Saliers write separately, then come together to arrange and record.)
Another first: After all of the basic tracks were recorded, keyboardist Julie Wolf laid Moog, Farfisa, Rhodes, and Wurlitzer sounds on top-the vintage keyboards and synths both adding to the uniqueness of the record and creating a subtly unifying motif for the diverse songs.
"In a way, I came back to the frenetic expression of Stag," says Ray of the tracks on Lung of Love. "I didn't try to make the songs hang together musically or lyrically in any thematic way. I just used what I learned about songwriting, performance, when to keep a vocal, when to throw it away, and tried to edit the songs until they were short and sweet."
Backed by her touring band of Griffith (Bass and Guitars), Wolf (Keys), and former Butchies Melissa York (Drums) and Kaia Wilson (Guitars and Vocals), the songs have an urgent, bright economy and a pop sensibility not heard on Ray's previous solo outings. Guest vocalists pop up throughout the record, including Brandi Carlile, Jim James, and Lindsay Fuller.
Working in Griffith's Greensboro, NC warehouse studio, Lung of Love was recorded to analog tape. The track "The Rock is My Foundation" benefited from live recording. Ray says about the recording, "We got together on a Sunday morning to record with a team of local players who really know mountain music. The warehouse where the studio is located also houses a couple or gospel churches. You could hear the choirs echoing down the hallways, so the whole scene was just really special and resonant." Brandi Carlile joins Ray on the chorus.
On the more punk rock side, "From Haiti" is a song of respect to Haitians after the earthquake. It's about people who had to contend with not just rubble and wreckage, but an historically paternalistic relationship with countries like the U.S. Against a persistent and percussive acoustic guitar strum-beat, Ray's lyrics underscore the resilience of the people, rather than emotionally exploiting poverty and pain.
In the pop gem "Little Revolution" Ray waxes philosophical about the human desire to shut down in the face of pain -- both personal and pandemic -- which is, in the long run, more painful than facing it. It's also a love song to someone who practices being open --- to experiences, to people, and to the pains of this world.
So back to that lung thing. Ray wrote the title song after being on the road, thinking about the struggle to rekindle love after absence. "I have a compass-morally, physically-and I am pulled in different directions," she says. "I was thinking about how these opposite urges create stress and clumsiness in our lives."
The lung, not the heart, stood out as the inspiring element in all that she did. "The lung of love is my singing voice," says Ray. "That is what comes out of me; but always in a struggle with its own clumsiness and frailty."
As a beloved Indigo Girl, Ray has long been known for her big muscular heart, as a solo artist though; she has indisputably found her voice on Lung of Love.