Announcing the 11th Annual Grateful Garcia Gathering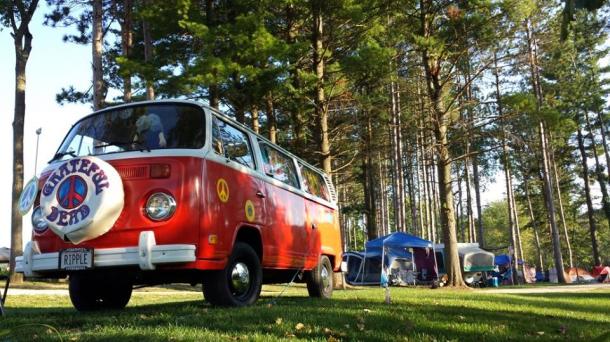 A Grateful place where Garcia fans will be Gathering! Jerry Garcia fans come from all around to dance and see some of the best jambands in the midwest at the 3G's tribute, honoring and paying tribute to the Grateful Dead's guitarist Jerry Garcia. It also marks the celebration of Jerry Garcia's 72nd Birthday, and it is the 19th anniversary of Jerry Garcia's untimely passing. It's also a time when many fans pay tribute to remember other Grateful Dead members like Ron "Pigpen" McKernan, Keith Godchaux, Brent Mydland, and Vince Welnick.
We're thrilled to announce a new venue for the Grateful Garcia Gathering 2014 at Kickapoo Stump Dodger Campground in beautiful Gays Mills Wisconsin! The 3G's will be "all ages" like it once was back in 2007. Here's a link to show you around the village! We know you'll support the village during your stay! http://www.gaysmills.org/
Be sure to make your vacation plans now to take off work, because we lots of excitement planned for all! YOU DON'T WANT TO MISS THIS! Melvin Seals is best known for his long 18 year friendship and musical partnership with cultural icon and guitarist Jerry Garcia and the smile of his that lights up the room. Melvin Seals spun his B-3 Hammond Organ with the "Jerry Garcia Band" for 18 years and in doing so helped pioneer and define what has now become "Jam Band Music".