Announcing the final Road Trips | Boston, MA | 6/9/76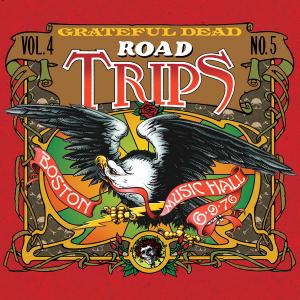 1976 was a pivotal year for the Grateful Dead. After an 18-month hiatus that saw just four Bay Area appearances by the band, but also a phenomenal studio album, Blues for Allah, and a slew of solo projects, the Dead returned to the road at the beginning of June '76. Mickey Hart was officially back in the fold after a long absence, and the band came back with a batch of new songs and fresh approaches to playing their old ones. It was the summer of America's much-ballyhooed bicentennial, the country was still going through Watergate withdrawal, and we needed our Grateful Dead back!
This latest - and last (more on that here) - edition of our Road Trips series, Vol. 4 No. 5, was drawn from two shows early on what was dubbed by many Heads at the time as the Dead's "comeback" tour. It contains the truly awe-inspiring complete June 9, 1976 Boston Music Hall show (just the third of the tour, but you'd never guess that), and also a handful of hot tracks from the June 12 show at the same venue. For a band that hadn't played together in eons, the Dead sound remarkably self-assured and on-the-ball throughout.
As with all the previous Road Trips releases, this final entry comes with a colorful booklet containing an essay and period photos. And needless to say, it has been mastered to HDCD specs by Jeffrey Norman.

Pre-order Road Trips Vol. 4 No. 5 here