Announcing Spring 1990, the newest Grateful Dead collection
Submitted by dead.net on Wed, 08/01/2012 - 14:39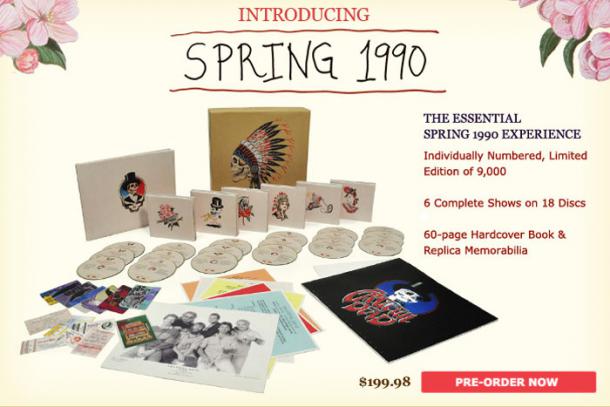 And now for something a little different. This year's box set - Grateful Dead: Spring 1990 - offers six complete shows from the epic spring '90 tour, one concert from each city the band played, personally selected by Dead vaultmeister and archival release producer David Lemieux. The sizzling six are: 3/16/90 Capital Centre (Landover , MD), 3/19/90 Hartford Civic Center, 3/22/90 Copps Coliseum (Hamilton, Ontario), 3/26/90 Knickerbocker Arena (Albany, NY), 3/30/90 Nassau Coliseum (Uniondale, NY) and 4/2/90 The Omni (Atlanta, GA).
In his "Producer's Note" in the beautiful book that is part of the box, Lemieux, who attended the first 10 shows on the tour, states, "To my ears this was the last tour that was consistently great, where every show is excellent, not a dud in the bunch." And Grateful Dead historian Dennis McNally's comprehensive and informative insider's essay in the box is titled "The Last Great Dead Tour." These guys know what they're talking about!
Besides the discs themselves, Grateful Dead: Spring 1990 has much to offer, including: a gorgeous 60-page hardcover book containing copious color photos by Jim Anderson and Michael Laurentus, unique artwork by Brooklyn-based fine artist Wes Lang, fascinating business letters and communications related to the tour, a detailed historical essay by Dennis McNally, a Producer's Note by David Lemieux and individual show descriptions by Blair Jackson; a reproduction of the Dead's 1990 tour program (printed and sold later in '90, for the fall and Europe '90 tours); tickets and backstage passes of all six shows; a band publicity photo from 1990 by Ken Friedman; Dennis McNally's tour laminate; and reproductions of the colored 8x10 sheets GDTS sent out with hotel, food and other information for each city on the tour.
With recordings made by longtime Grateful Dead recordist and producer John Cutler, mastered by Jeffrey Norman in HDCD, you just know it's gonna sound great - and it does!
That's the straight-to-your-in-box skinny, you can get ALL the details of this Dead.net exclusive here.
This box is limited to just 9,000 numbered copies - please note, this is the only time these shows will ever be officially available on CD . There will not be an All Music Edition and single shows will not be available physically. Due to ship out August 31st, we anticipate that this extraordinary set will sell-out, so order your copy today!
(If you're looking for more of a bite-sized taste of '90, Spring 1990: So Glad You Made It, a 2-CD set featuring a handful of favorites, will be in stores on September 18th. You can also pre-order it here.)