Arbouretum Announce US Winter Tour With Endless Boogie
Arbouretum
are thrilled to announce their 2011 Winter tour with fellow indie rock guitar heros,
Endless Boogie
. They will start out celebrating the release of their epic new LP
The Gathering
in their hometown of Baltimore, Maryland on February 13th. From there, they will be traveling to the west coast to in support of their highly anticipated new new album. Don't worry east coast, they will be there soon!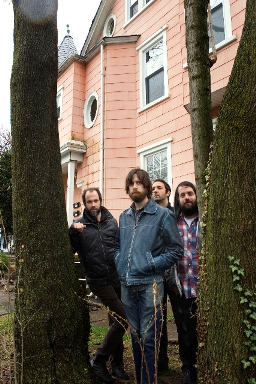 The Gathering
has garnered early support from Pitchfork, NPR, The Fader, The NME and Stereogum. In November, Arbouretum released new album details and a live video for "When Delivery Comes".  While
Pitchfork
broke the news of the new LP and premiered the video, both
The Fader
and
NPR
picked up the news, posted the new acoustic video, and set the tone for this truly amazing album.
In December, Stereogum premiered their
debut single
, "Destroying To Save" and raved about its "gorgeous guitar sound and stately vintage psych pacing." And on the other side of the pond, UK's The NME and premiered the single in their Top 10 Daily
Download
.
From the truly poetic opener "The White Bird", to the amazing cover of
The Highwaymen's
"Highwayman",
Arbouretum
have really delivered a masterpiece of epic proportions. The "Song of the Nile" was a collaboration between
Rob Wilson
and lead singer/guitarist
Dave Heumann
; "the song talks about someone on a mythical hero quest who seems to go through all these scenarios quite by accident."
The Gathering
takes the listener on a journey filled with a plethora of imagery and narrative context lifted from the Gnostic myth of "The Song of The Pearl".

The Gathering, was to a large extent, inspired by The Red Book by Carl Jung, or more specifically, Jung's pursuit of the inner images that led to the book's writing. Dave Heumann has long been a fan of experiences that surpass comprehension and describe the numinous. The narrative of "losing one's way and finding it again" resonated deeply and it was in this context that the songs that comprise The Gathering came to be.  The attention to detail in recording and in writing, in concert with the performance, result in the other-worldly experience of The Gathering.
--

US Winter 2011 Tour:
Feb 13  Baltimore, MD   Ottobar Upstairs w/Secret Mountains
Feb 17  San Diego, CA   Tin Can Ale House w/Endless Boogie
Feb 19  Santa Cruz, CA  105 Pioneer w/Endless Boogie
Feb 20  San Francisco, CA Hemlock Tavern w/Endless Boogie
Feb 22  Vancouver, BC Biltmore Cabaret w/Endless Boogie, Nathan Wheeler
Feb 23  Olympia, WA Northern w/Endless Boogie, Eternal Tapestry
Feb 24  Portland, OR Mississippi Studios w/Endless Boogie, Eternal Tapestry
Feb 26  Seattle, WA Comet Tavern w/Endless Boogie, Eternal Tapestry
Feb 28  Oakland, CA  TBA w/Endless Boogie
Mar 1   Los Angeles, CA The Satellite w/Endless Boogie
Mar 5   Baltimore, MD 2640 Space w/Future Islands, Celebration