Architecture in Helsinki Get Remixed by Javelin, New Album Out Today!
Submitted by mike on Wed, 05/04/2011 - 00:41
Masters of modernist pop Architecture in Helsinki release their new album Moment Bends today on V2/Cooperative Music USA/Downtown Records.  To celebrate the occasion the band is sharing a remix of their single "Contact High" by Brooklyn duo Javelin.  Click HERE to stream/download this lush, shimmering take on the song.  Click HERE to watch the video for the original version of "Contact High," which Paste Magazine calls "summer's first mixtape must" and Prefix Mag calls "absurdly catchy."  Don't miss the band as they kick off their US tour next month!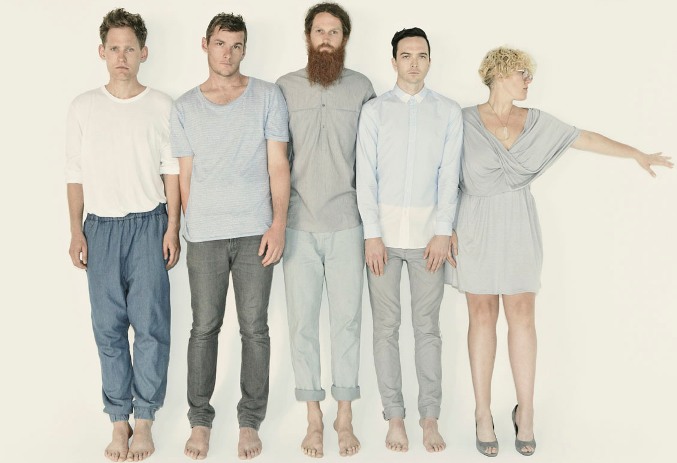 In large parts, Moment Bends is in dialogue with the dance floor, without being a slave to any particular rhythm.  Like the best pop albums it bubbles with an immediacy while revealing new layers after repeated listens.  It also showcases the band's most concise and sophisticated songwriting yet.  Recorded over a two year period in the their studio space, Buckingham Palace, songwriter Cameron Bird says: "Moment Bends was all about being at one with our ideas, obsessed with popular music and falling in love with our hometown.  We wanted to build a record to get lost in.  A record that always feels exactly what you are feeling".
Click HERE to Stream/Download Javelin's Remix of "Contact High"
Click HERE for the Video of Architecture in Helsinki's Original Version
--
Architecture in Helsinki US Tour Dates:
06/01:  Los Angeles, CA @ Henry Fonda Theater
06/02:  San Francisco, CA @ Great American Music Hall
06/03:  San Francisco, CA @ Slims
06/04:  Portland, OR @ Wonder Ballroom
06/05:  Vancouver, BC @ Venur
06/06:  Seattle, WA @ Neumo's
06/09:  Minneapolis, MN @ Varsity Theater
06/10:  Chicago, IL @ Lincoln Hall
06/11:  Toronto, ON @ Mod Club
06/12:  Montreal, QC @ Le Tulipe
06/13:  Boston, MA @ Paradise Rock Club
06/15:  Brooklyn, NY @ Music Hall of Williamsburg
06/16:  New York, NY @ Webster Hall
06/17:  Washington, DC @ Black Cat
06/18:  Philadelphia, PA @ World Cafe Live