Bart Walker Will Release His Label Debut CD On March 12th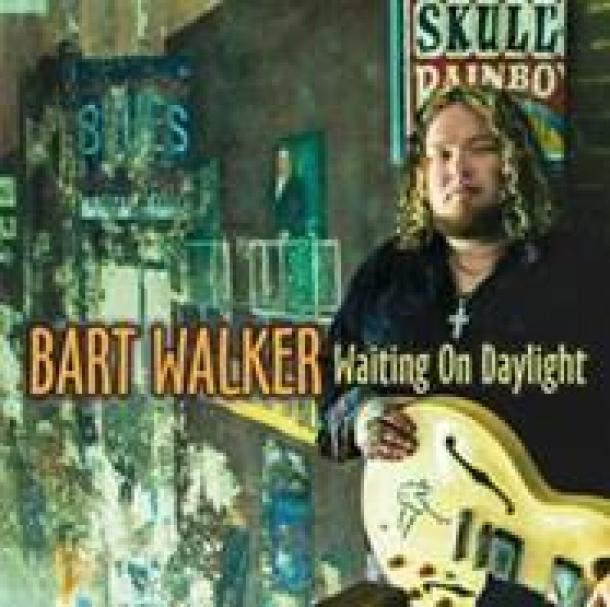 Ruf Records announces the signing of Nashville-based blues guitarist/singer Bart Walker and will release his label debut CD, Waiting on Daylight, on March 12. The new album was produced and engineered by multi Grammy-winner Jim Gaines and recorded at his Bessie Blue Studio in Stantonville, Tennessee. Backing Walker on Waiting on Daylight are all-star Memphis session players Steve Potts (drums), Dave Smith (bass) and Rick Steff (keyboards), along with special guest Dave Cohen on organ.
The 11 tracks on Waiting on Daylight feature nine new songs written by Walker and such other Nashville notables as Grammy-winner Gary Nicholson and Pat McLaughlin, plus blazing covers of J. B. Hutto's "Hip Shake It," and the Allman Brothers Band classic, "Whippin' Post," which closes the album.
The timing of the new CD couldn't have been better for Bart Walker, having won the Gibson Guitarist Award at the 2012 International Blues Challenge in Memphis, and earning glowing reviews for his first album, Who I Am, which he also produced. Coupled with some major buzz after recent appearances on Delbert McClinton's Sandy Beaches Cruises, blues audiences are primed and ready for a new album of music from the blues guitar blaster.
"When we started out with this new record," says Walker, "I was constantly thinking about how I was I gonna top the last one. About 20 minutes into the session, Jim showed me how that was gonna happen."
A gifted guitar player, Bart Walker has been playing since the age of four and has already logged plenty of road miles as the right-hand man to country-rocker Bo Bice and collaborated in the studio with such heavyweights as Steve Gorman (Black Crowes), Audley Freed (Cry Of Love, Black Crowes) and Robert Kearns (Cry of Love, Lynyrd Skynyrd). He's played with Stevie Ray Vaughan's original back-up band, Double Trouble, and until recently had Double Trouble keyboardist Reese Wynans as a regular member of his own touring outfit.
Waiting on Daylight kicks off with the funky blues groove of "It's All Good," featuring a vocal that instantly recalls Louisiana swamp man Tab Benoit. On "Took It Like a Man," Walker's influences from southern rock icons ZZ Top and the Allman Brothers show their colors. "Those are definitely some of my most favorite artists, along with my all-time favorite guitar player, Stevie Ray Vaughan," explains Walker. "But honestly, I have so many influences from so many genres: Guns 'n' Roses, Zeppelin, Jack White, Doyle Bramhall II, Warren Haynes … the list is 100 miles long."
As things progress through rockin' tunes like the Chuck Berry-flavored "Happy," J. B. Hutto's "Hipshake It" or the introspective "Mary and Me," it becomes harder to ignore what is unquestionably one of the album's biggest strengths: a big, fat, gritty, greasy guitar tone massive enough to take hold of your soul. Walker confirms this is no accident. "If it doesn't have the big fat, beefy tone, then I won't play to my fullest potential," says the self-professed "tone freak" – who then runs off a list of the roughly dozen different guitars he used to get just the right sound on each particular cut. And he couldn't have found a better producer to bring his muscular guitar sounds to fruition than producer Gaines, who literally lives and breathes guitar tones, as evidenced by his acclaimed work with such axemasters as the aforementioned Vaughan, Carlos Santana, George Thorogood, Luther Allison and Bart's Ruf labelmate, Joanne Shaw Taylor.
It didn't take long for the guitarist and his producer to realize they had something special going on in the studio. "I really felt like I had accomplished something when Jim Gaines turned around in his chair and looked at me while we were listening down to some of the tracks and said, 'Man, we got us a really rockin' record!,' "exclaims Walker.
With the release of Waiting on Daylight, audiences all over the world will be able to experience that blinding blues flash of creative brilliance.
Bart Walker will tour Europe with Ruf's "Blues Caravan" roadshow starting this month along with Joanne Shaw Taylor and Jimmy Bowskill and then return to the U.S. for dates throughout the spring and summer. He's managed and booked by Gina Hughes of The Galaxie Agency www.galaxieagency.com. For more information, visit www.thebartwalkerband.com