B.B. King with Hazel Miller Trio @ Boulder Theater
Submitted by mike on Wed, 12/15/2010 - 20:45
His reign as King of the Blues has been as long as that of any monarch on earth. Yet B.B. King continues to wear his crown well. At age 76, he is still light on his feet, singing and playing the blues with relentless passion. Time has no apparent effect on B.B., other than to make him more popular, more cherished, more relevant than ever. Don't look for him in some kind of semi-retirement; look for him out on the road, playing for people, popping up in a myriad of T.V. commercials, or laying down tracks for his next album. B.B. King is as alive as the music he plays, and a grateful world can't get enough of him.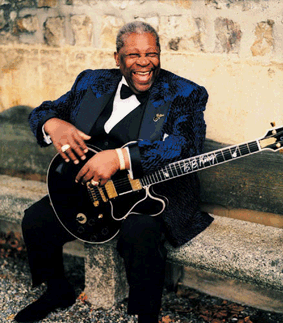 For more than half a century, Riley B. King - better known as B.B. King - has defined the blues for a worldwide audience. Since he started recording in the 1940s, he has released over fifty albums, many of them classics. Over the years, B.B. has developed one of the world's most identifiable guitar styles. He borrowed from Blind Lemon Jefferson, T-Bone Walker and others, integrating his precise and complex vocal-like string bends and his left hand vibrato, both of which have become indispensable components of rock guitarist's vocabulary. His economy, his every-note-counts phrasing, has been a model for thousands of players, from Eric Clapton and George Harrison to Jeff Beck. B.B. has mixed traditional blues, jazz, swing, mainstream pop and jump into a unique sound. In B.B.'s words, "When I sing, I play in my mind; the minute I stop singing orally, I start to sing by playing Lucille."
B.B. continues to tour extensively, averaging over 250 concerts per year around the world. Classics such as "Payin' The Cost To Be The Boss," "The Thrill Is Gone," How Blue Can You Get," "Everyday I Have The Blues," and "Why I Sing The Blues" are concert (and fan) staples. Over the years, the Grammy Award-winner has had two #1 R&B hits, 1951's "Three O'Clock Blues," and 1952's "You Don't Know Me," and four #2 R&B hits, 1953's "Please Love Me," 1954's "You Upset Me Baby," 1960's "Sweet Sixteen, Part I," and 1966's "Don't Answer The Door, Part I." B.B.'s most popular crossover hit, 1970's "The Thrill Is Gone," went to #15 pop.