Beats Antique Debuts At #2 On Electronic iTunes Charts
Exotic electropop/fusion/gypsy hip-hop act Beats Antique, a band with roots in bellydance, performance art and electronic music, celebrates its new release with a live concert webcast.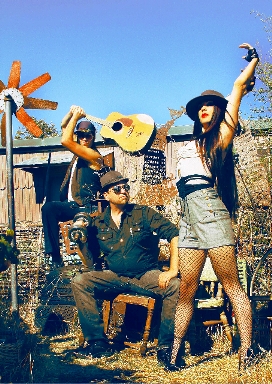 The webcast concert for Blind Threshold's iTunes release is Tuesday, Sept. 14 at 7 p.m. PT/10 p.m. ET, broadcast from the campus of Ex'pression College for Digital Arts in Emeryville, CA. Hosted by CreativeAllies.com, an online design community that lets anyone submit art in official contests for artists like M.I.A., OK Go, Amanda Palmer, Jack Johnson and Thievery Corporation, the webcast is free and open to the public.
Beats Antique has performed at Lollapalooza, the Austin City Limits festival and Outside Lands, and has toured with Bassnectar and Les Claypool of Primus. The new release, Blind Threshold, contains violins, laser-guided harmonica from Blues Traveler frontman John Popper, and vocal tracks ranging from restless pop from singer-songwriter LYNX to the Eastern European folk melodies of Eva Salina.
Blind Threshhold is released in CD form on Antique Records on October 12.
--
US Tour:
9/17 - Laytonville, CA - Earthdance
9/18 - Denver, CO - Ogden Theatre
9/24 - Seattle, WA - Decibel Festival @ Motor
9/25 - Arcata, CA - Aracata Theatre
9/28 - Fargo, ND - The Aquarium
9/30 - Madison, WI - Majestic Live
10/1 - Milwaukee, WI - Miramar Theatre
10/2 - Chicago, IL - Abbey Pub
10/3 - Grand Rapids, MI - The Intersection
10/6 - New Orleans, LA - Republic
10/9 - Austin, TX - Austin City Limits
10/11 - Mobile, AL - Alabama Music Box
10/12 - Birmingham, AL - Zydeco
10/13 - Nashville, TN - Exit/In
10/14 - Asheville, NC - TBD
10/15 - Charleston, SC - The Pour House
10/16 - Athens, GA - New Earth Music Hall
10/17 - Atlanta, GA - Masquerade - Hell Room
10/22 - Allston, MA - Harpers Ferry
11/11 - Vancouver, BC - Biltmore Cabaret
11/12 - Edmonton, AB - The Pawn Shop
11/13 - Calgary, AB - Royal Canadian Legion
11/14 - Winnipeg, MB - Crescent Wood United Church