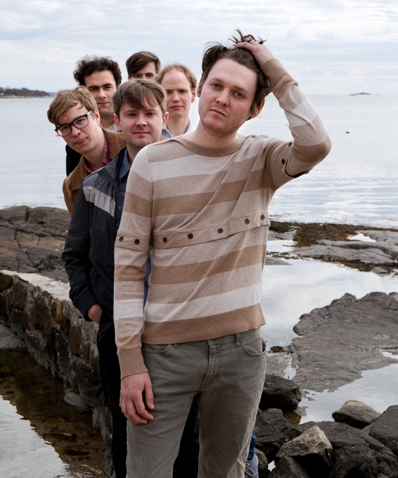 Beirut's The Rip Tide is out August 30 on Zach Condon's very own Pompeii Records. Few predicted the inward journey Beirut leader, Zach Condon, would achieve on The Rip Tide, an album with the most introspective and memorable songs of his young career. With songs that speak of love, friendship, isolation, and community, touching on universal human themes that are less fabricated stories than impressions of life at a quarter century of age, the album exposes a depth of honesty that outstrips the simplified nomadic troubadour image of his past. Songs are no longer about imagining places you haven't been; they're about places of which we are all extremely familiar, perhaps too familiar. This dramatic shift expands Beirut's palate as Condon has coated serious lyrics with his greatest tunes ever. The second track, "Santa Fe," is the best pop song he has yet written, a jumpy ode to the town of his youth, and an early sign that The Rip Tide is all about the staycation.
Listen to The Rip Tide in its entirety now at NPR Music, and share "Santa Fe" stream.
STREAM BEIRUT'S THE RIP TIDE | "SANTA FE"
The physical release of the album will be available in three formats in the US:
LIMITED Edition Deluxe CD - Available primarily at independent record shops and directly from the band, this package will come in a book styled format, entirely cloth bound setting off the gold foil stamping.
LIMITED Edition Deluxe LP - Beautifully clothbound - as per the deluxe CD with gold foil stamped lettering. The LP will also come with a collectable postcard designed by Perrin Cloutier of the band and MP3 download code.
Standard CD DIGIPAK - In a book style format w/gold foil stamped lettering.
As previously announced, Beirut will be touring in support of The Rip Tide. Joining Zach Condon (ukulele, trumpet, piano, vocals) on the road is Perrin Cloutier (accordion, piano), Paul Collins (electric bass, upright bass), Ben Lanz (trombone, piano, tuba), Nick Petree (drums), and Kelly Pratt (trumpet, euphonium).
BEIRUT TOUR DATES
Wed. Aug. 10 -- Vancouver, BC @ Commodore
Fri. Aug. 12 -- Portland, OR @ Crystal Ballroom
Sun. Aug. 14 -- San Francisco, CA @ Outside Lands
Fri. Sep. 2 -- Dorset, UK @ End of Road Festival
Sun. Sep. 4 -- Stradbally, Ireland @ Electric Picnic
Tue. Sep. 6 -- Manchester, UK @ Manchester Academy
Thu. Sep. 8 -- Amsterdamn, Netherlands @ Paradiso
Mon. Sep. 12 -- Paris, France @ Olympia
Wed. Sep. 14 -- Brussels, Belgium @ AB
Fri. Sep. 16 -- London, UK @ Brixton Academy
Wed. Sep. 21 – New York, NY @ Terminal 5
Thu. Sep. 22 – New York, NY @ Terminal 5
Mon. Sep. 26 -- Chicago, IL @ Congress Theater
Wed. Sep. 28 – Denver, CO @ Fillmore Auditorium
Sat. Oct. 1 Oakland, CA @ Fox Theater - DNA
Tue. Oct. 4 – Los Angeles, CA @ Greek Theatre
Fri. Oct. 7 -- Santa Fe, NM @ Santa Fe Community Convention Center
Sun. Oct. 9 – St. Louis, MO @ The Pageant
Tue. Oct. 11 – Royal Oak, MI @ Royal Oak Music Hall
Tue. Oct. 25 – Richmond, VA @ The National
Thu. Oct. 27 – Atlanta, GA @ Variety Playhouse
Sat. Oct. 29 – Austin, TX @ Stubbs Waller Creek
Fri. Nov. 4 -- Mexico City, Mexico @ Salon Vive Cuervo
Sat. Nov. 5 -- Mexico City, Mexico @ Salon Vive Cuervo
Wed. Nov. 9 -- Lexington, KY @ The Kentucky Theater
Fri. Nov. 11 – Cincinnati, OH @ Bogarts
Sun. Nov. 13 – Philadelphia, PA @ Electric Factory
Promoted on slideshow
Off