Big Daddy Love Lets it Grow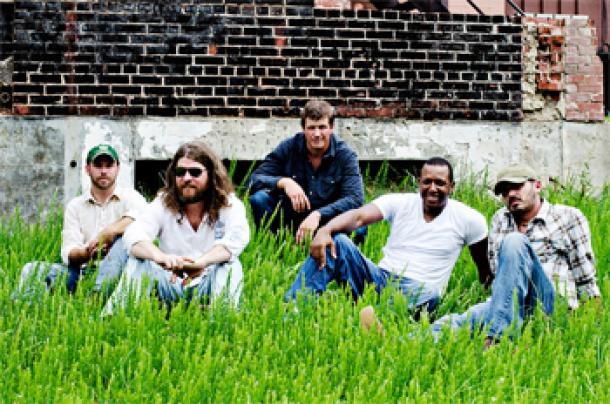 On their upcoming release Let It Grow (Little King Records), Big Daddy Love walks the fine line between roots, Americana, and blue collar rock & roll. Essentially organic in both disposition and composition, Big Daddy Love is a five-piece band with a natural blend of rock, roots and grass that they call 'Appalachian Rock'. Their multiple performances at 2011's Floyd Festival made it clear that this is one of the most important new bands to watch in the East Coast roots rock and Americana community.
Having only been together since the Summer of 2009, Big Daddy Love-- founded by high school friends from the rural hill country of Sparta, NC-- made their first trip to Floyd in 2010, where they won the prestigious "Under The Radar" contest for the best new artist. Their fresh, vital sound and energized performance simply blew people away. 
Above the mix, the lead vocals and acoustic guitar accompaniment of their principal songwriter, Daniel Justin Smith, command the listener's attention and call for the harmonies that arise in response. Twin leads of Stratocaster riffs and soaring Allman-esque slide guitar on the one hand, and electric and acoustic 5-string Scruggs / Fleck style banjo on the other-- like a typical Southern rock line-up, just replacing the second guitar with the banjo-- punctuate and emphasize what Smith delivers. These contrasting voices are anchored by a rhythm section that is equally at home in a groove or driving the bus with country, swing, funk or straight ahead rock. Big Daddy Love's high-energy performances, fueled by this combination of fiery vocals, sweet-sugary harmonies and striking instrumental dynamics that range from bombastic assaults to soothing grooves, have garnered them a strong, passionate following throughout their home region.
Live, with the lights on and the volume up, Big Daddy Love stretches the music out with top notch picking and ripping, delivering a stompin' good time rich with authentic Carolina soul. At the same time, the good-natured, yet thoughtful sincerity of the lyrical content, the authentic song-craft and the undeniable musicianship of the band-- as heard in live and studio recordings-- has resonated with audiences throughout the ether and generated demand beyond the markets where they currently perform. 
Reviews of Big Daddy Love's debut release--To The Mountain-- were glowing. North Carolina music media staple Mountain Xpress said: "From start to finish, To The Mountain is a captivating album that alludes to a dynamic live show. If the musicians dabble in a variety of styles it's only because, well, they can. And certain elements— a tightly-coiled energy always threatening to explode within each song, a choice group of collaborators, flawless musicianship and Smith's compelling vocals— provide a palpable thread throughout."
The record was picked up as a favorite spin by Americana and AAA radio stations throughout the region, including taste-maker WNCW in Spindale, NC. To The Mountain was a snapshot of a young band realizing the power of their vision and stretching the boundaries of their influences. Let It Grow, remains consistent in terms of its subject matter, it's sincerity and it's dynamic, and this is good news for the fans. It is also good news for the roots music community, which is more-and-more represented these days by bands who have adopted a more cynical posture to the idiom. With their "on the sleeve", sincerity and first rate musicianship, Big Daddy Love may well be the antidote to this erosion of the roots sound, despite being-- in many ways-- a blue collar rock band with Appalachian roots.
Let It Grow will hit the streets on September 13th following a special CD release party at the venerable Ziggy's in Winston-Salem, NC that will feature special guest Jim Lauderdale. For more info. on Big Daddy Love, to listen, view tour dates and more, please check out www.bigdaddylove.com.