Big Ol' Dirty Bucket Debut Album Drops Nationwide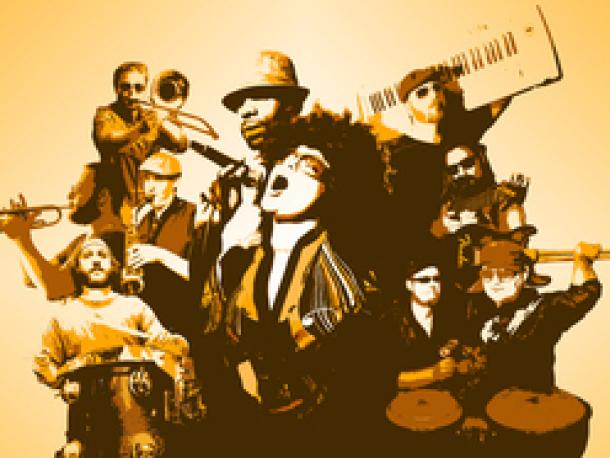 Big Ol' Dirty Bucket's self-titled album is the band's debut studio release and contains eleven pulsating tracks which highlight the unique style of funk that has become the band's trademark sound. Laden with big horns, rippling keys, slick guitar, and soulful vocals atop thumping bass and drums, each track showcases the vast sonic pallet that makes Big Ol Dirty Bucket's sound so modern and unique, while retaining an unmistakably classic funk feel. From the powerful funk/rock components of the album's opener "Photonic Amplifier People" and the James Brown-esque chicken pickin' of "Lite That Spliff", to the classic soul stylings of "Emotional Rollercoaster", all the way to the pumping dance floor burner "All Night Long and Once In The Mornin'", Big Ol' Dirty Bucket's self titled album is destined to spawn a slew of party playlist favorites across the board.
Described as "Parliament-Funkadelic meets Aretha Franklin at a Jay-Z concert", Big Ol' Dirty Bucket's sonic elements pay homage to its influences -- 70's Funk and Soul music spiced with touches of Latin rhythms and seasoned with a touch of Hip Hop to create a uniquely funky and fresh listening experience. The 10-piece band complements its seamlessly tight hooks and dance grooves with bouts of over-the-top musicianship, and the result is a sound and performance that is musically intricate and complex yet accessible to even the most casual music fan.
Fueled by a propulsive rhythm section and led by the powerhouse vocals of front woman Sarah "Lil' Shrimp" Seminski, Big Ol' Dirty Bucket surged onto the local Boston music scene in May 2010 with its inaugural appearance in front of a sold-out crowd at The Middle East Downstairs. Over the next two years, a cascade of well-attended Northeast American appearances followed including appearances with Onyx, Tracy Bonham, 420 Funk Mob (featuring George Clinton and members of the Parliament Funkadelic), Max Creek, Zach Deputy, Dopapod, Strangefolk, and other chart-topping national and international acts, in addition to being regularly aired on the Boston Red Sox Radio network.