Big Sam's Funky Nation & Sullivan Hall
Submitted by mike on Wed, 11/04/2009 - 02:51
Big Sam's Funky Nation had an amazing Halloween weekend & the party's not over yet! Put on your dancin' shoes, BSFN is making their way back to New York for a night of pure, booty-shaking funk this Friday, November 6th.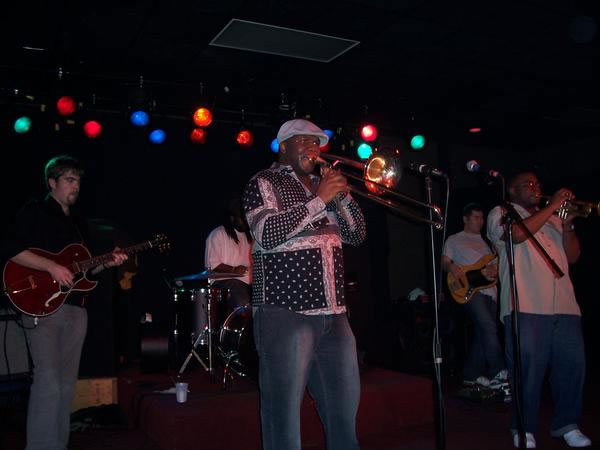 Recently awarded the Big Easy Music Award for "Best Funk Group of 2008,"
Big Sam's Funky Nation
is a driving force of urban funk. The band is led by trombone powerhouse,
Big Sam Williams
, formerly the trombonist for the
Dirty Dozen Brass Band
, who the San Francisco Chronicle calls "the top man on the slide trombone in the birthplace of jazz." Combining his distinctive trombone riffs with a call-and-response MC style,
Big Sam
refuses to let the audience sit still. Between the band's solos and his trombone riffs,
Big Sam
second-lines (a uniquely New Orleans style of street-dance) and gets the crowd going.
Big Sam's Funky Nation
is not a one man show; the members of the
Funky Nation
, a group of well trained and experienced musicians with impressive credentials of their own, meet the challenges of their funky band leader.
BSFN
masterfully combines a rock sensibility with improv-style associated with jazz and the horn-heavy front section that's the hallmark of big band funk. The energy level is high voltage when this band takes the stage, and as Jambase Online proclaims, "as long as groups like Big Sam's Funky Nation helm communal happenings like this one the funky fever is bound to spread."
Kicking the night off will be the
Honey Island Swamp Band
. Come out and show your love at the upcoming
Big Sam's Funky Nation
show at
Sullivan Hall
--you'll be sure to Shake Yo Thang
!
DATE: Friday, November 6th TIME:  10:30pm