The Big Up Adds Beats Antique, GAUDI, The Egg, DrFameus & More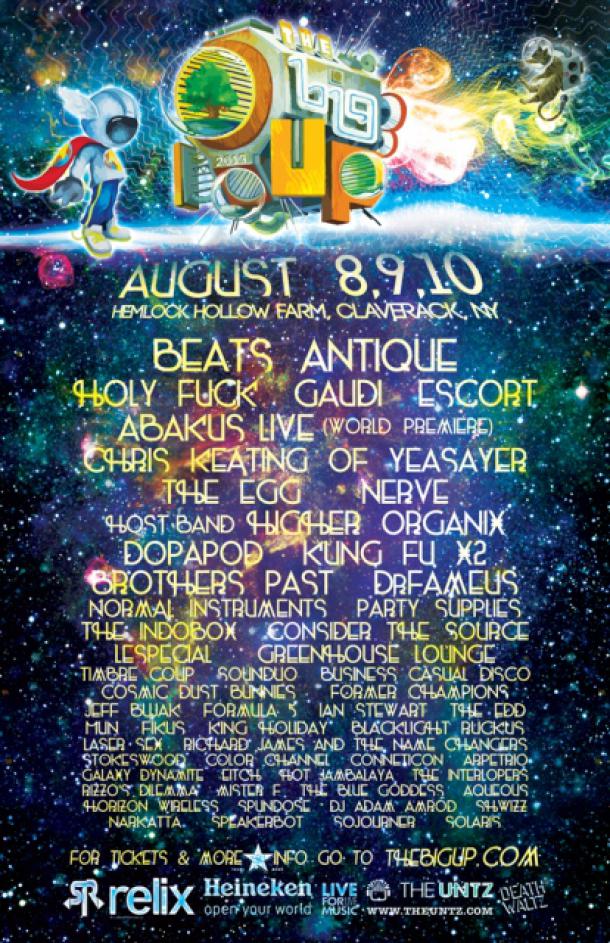 The Big Up Music & Arts Festival has unveiled their Phase Two lineup featuring more than 40 stellar acts including experimental world fusion performers Beats Antique, producer and live artist GAUDI, British electro-dance band The Egg, and drummer/producer DrFameus (aka Allen Aucoin of The Disco Biscuits), plus an extra special set by nu-funk ninjas Kung Fu.
Taking place August 8th – 10th at Hemlock Hollow Farm in Claverack, NY, these artists join Holy Fuck, Escort, the world premiere of Abakus live band, a DJ set from Chris Keating of Yeasayer, Nerve, host band Higher Organix, Dopapod, Brothers Past and more.
Stay tuned for additional artist announcements including a big Saturday late night addition as well as details on large-scale multimedia installations, contests and games, workshops ranging from music production to hands-on sustainable living, greening initiatives, yoga, farmers market and collaborative art.
"Countdown" weekend tickets that include all performances and three nights of camping are available for $120. VIP upgrades and RV passes are also available at http://thebigup.com/tickets. Space is limited at this intimate, boutique music festival, so grab your tickets before they sell out. Countdown initiated! 
The Big Up 2013 Artist Line Up: 
Beats Antique • Holy Fuck • GAUDI • Escort • Abakus Live (World Premiere) • Chris Keating DJ set (Yeasayer) • The Egg • Nerve • Higher Organix (host band) • Dopapod • Kung Fu x2 • Brothers Past • DrFameus • Normal Instruments • The Indobox • Consider the Source • Timbre Coup • Party Supplies • lespecial • SOUNDUO • Greenhouse Lounge • Cosmic Dust Bunnies • Business Casual Disco • Former Champions • Jeff Bujak • Blacklight Rukus • Ian Stewart • The Edd • FiKus • King Holiday • Horizon Wireless • Speakerbot • Richard James & The Name Changers • Formula 5 • Color Channel • ConnetICON • Interlopers • Galaxy Dynamite • Laser Sex • Hot Jambalaya • Mister F • Rizzo's Dilemma • Stokeswood • The Blue Goddess • Aqueous • Spundose • Arpetrio • DJ Adam Amrod • Narkatta • ShwizZ • Sojourner • SOLARiS