Bill Evans Soulgrass Special Edition w/ Special Guest Sam Bush
Submitted by Eigo on Thu, 03/12/2009 - 04:32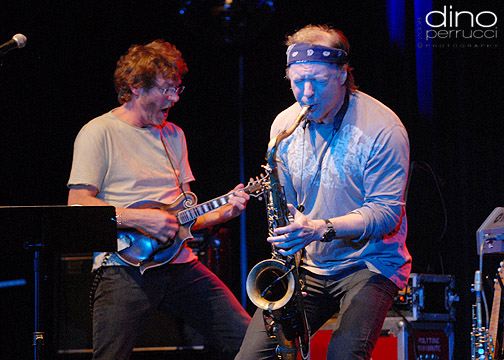 THE IRIDIUM JAZZ CLUB IS VERY PLEASED TO PRESENT THE KING OF NEWGRASS SAM BUSH AND JAZZ-SOUL SAX MAN BILL EVANS IN A VERY SPECIAL APPEARANCE APRIL 2-5.  BILL EVANS SOULGRASS SPECIAL EDITION SPECIAL GUEST SAM BUSH FEATURING DENNIS CHAMBERS, RICHARD BONA, RYAN CAVANAUGH AND CHRISTIAN HOWES (SAT AND SUN ONLY
Bill Evans
Throughout his 20-year career as a solo artist, saxophonist Bill Evans  has explored a variety of musical settings that go well beyond the confines of traditional jazz, including hip-hop, fusion, reggae, Brazilian and slamming funk.  Evans stepped into more adventurous territory with his 2006 Grammy nominated release Soulgrass, blending jazz, funk and bluegrass into a seamless and wholly unique hybrid of quintessentially American styles. He collaborated on the project with an exciting and eclectic group of all-stars, including Vinnie Colaiuta, Stuart Duncan, Jerry Douglas, Bela Fleck, Bruce Hornsby, John Scofield, Victor Wooten and Mark Egan.
His follow up to that widely acclaimed project, found him pushing the envelope a little further in that direction on The Other Side Of Something. "It's an extension of Soulgrass," he says of his latest release. "I am always trying to push the envelope and take the music somewhere it hasn't been before. I am just beginning to explore all of the possibilities. I have been touring a lot over the last two years, using the banjo and fiddle as my rhythm instruments, so by the time I started writing new music for the new CD, I was over-flowing with ideas. One of the first ideas I had was to sing for the first time on one of my CDs. The saxophone and voice are very similar in range so it seemed like a very natural thing for me to do. It is, of course, another instrument so I have been working very hard at it. People will hear a new side to me that they have never heard before".
 
The Other Side Of Something features Bela Fleck, Sam Bush, Richard Bona, Victor Wooten, Dennis Chambers, as well as his regular touring band of Chris Howes, Ryan Cavanaugh, and Joel Rosenblatt.
 
Evans first joined Miles Davis group at the age of 22 in 1980, and went on to record six records and tour the world with Davis numerous times over a four-year period. He then toured and recorded three CDs with John McLaughlin and the Mahavishnu Orchestra, and later played with Herbie Hancock, Lee Ritenour, Dave Grusin, Steps Ahead and Mick Jagger, among others. The saxman has been touring almost exclusively with his own band since 1990, playing well over 100 concerts per year worldwide. He has recorded 15 solo CD's and received two Grammy nominations, one for Soul Insider(2002) and the other for Soulgrass ( 2006).
Sam Bush
Though he admits a certain discomfort with the moniker "King of Newgrass" Sam Bush has more than earned it. As cofounder and leader of the seminal progressive bluegrass band New Grass Revival through 18 years during the 1970s and '80s, Bush is responsible for influencing legions of bands like Nickel Creek, Yonder Mountain String Band, and String Cheese Incident, to name just a few.
When not heading his own band, Bush has spent the past 15 years as a supersideman with the likes of Emmylou Harris, Lyle Lovett, and the Flecktones; spearheaded boundary-stretching collaborations with Edgar Meyer, Mark O'Connor, and David Grisman, and driven nearly every "bluegrass supergroup" imaginable with his inimitable mandolin playing.
 
icon) on mandolin . Bill Evans and Sam Bush have teamed up before to produce an invigorating blend of styles that gets the audience up out of their seats. Sam also hosted the Bluegrass awards last year in Nashville and came home with the "best mandolin of the year" award.
Dennis Chambers is a drummer whose propulsive style and versatility have enabled him to play in combos or large groups, and work with fusion and hard bop bandleaders. He has released two sessions as a leader and recorded and played with Parliament and Funkadelic, Special EFX, David Sanborn, John Scofield, Mike Stern/Bob Berg Band, Randy Brecker's Band and Michael Brecker's Band, Mike Urbaniak's Band/Bill Evans Band/CTI All Stars/George Duke/Stanley Clark's Band/Steve Kahn's Eyewitness Band/John McLaughlin Band. 2005 till now: Santana - 2007: Tower Of Power.
RICHARD BONA Dubbed "The African Sting, Richard Bona has been recognized as one of the planet's five revelations of the past decade. A complete artist, an absolute master of his art, and a melodist of rare elegance and sensuality, he's also a poignant singer, and a member of that exclusive club, "the world's best bassists. "His unique style is situated at the crossroads of a horde of influences - jazz, bossa nova, pop music, afro-beat, traditional song, and funk.
RYAN CAVANAUGH Whether playing traditional bluegrass music, or adding a unique twist to a modern fusion quintet with master saxophonist Bill Evans, Ryan Cavanaugh strives to be original and innovative on the banjo. Having shared stages with Jazz legends such as Bill Evans, John McLaughlin, and Bluegrass legends like Sam Bush, Cavanaugh's journey has taken him from the fiddlers' conventions of VA to the Jazz audiences of Europe.

CHRISTIAN HOWES has already made an indelible mark and is poised to be a path-finding figure on the contemporary violin. He's won recognition and kudos from artists and critics alike. Says guitar pioneer Les Paul, with whom Christian has made numerous appearances: "There is nobody better than this guy." The prominent artists Howes has performed and/or recorded with include Greg Osby, Randy Brecker, James Carter, Jack DeJohnette, Akua Dixon's Quartette Indigo, Billy Hart, D.D. Jackson, David Murray, Steve Turre's Sextet with Strings, Jane Monheit, Dr. John, Frank Vignola, and Lenny White, to name a few.
IRIDIUM JAZZ CLUB
1650 BROADWAY (Corner of 51st)
NEW YORK, NY 10023
RESERVATIONS: 212-582-2121
http://www.iridiumjazzclub.com/
Sets At 8:30 & 10:30PM