Billy Crockett To Release 'Wishing Sky' November 3
Submitted by mike on Mon, 10/26/2009 - 22:13
Veteran singer-songwriter-producer-master guitarist Billy Crockett will release on November 3 his new record, the artful and melodic WISHING SKY (Blue Rock Artists), with its smart and insightful lyrics and virtuoso instrumentation.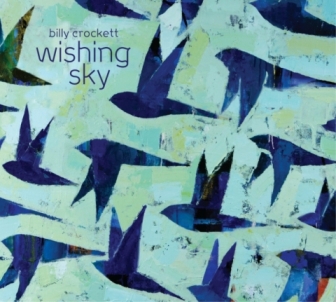 Crockett's one-of-a-kind sound — fresh, thought-through lyrics included — is exemplified by WISHING SKY and its authentic songs of love and life and the handling of both from what the writer describes as a new point of view that crystallized during a respite from touring and the planning and building of Blue Rock Artist Ranch and Studio in Wimberley, Texas.
With cameo appearances by Jon Dee Graham, Ray Bonneville, Paul English and Lloyd Maines, Crockett's WISHING SKY features "Feel It," about how thinking too much can get in the way of good stuff (the tango, for instance, he says); "Meant That," about longing for authenticity and finding it in a word, guitar solo, a dog howling at the moon or in the way she walks; and "Long Live This Love," an audacious appeal for lasting love.
"After nine years, I wrote and recorded the album, songs of independent observation, free of institutional ties. In a way, I'm starting over," he says. "I have tried to strip down my own language and ideas to something essential, tell my story, and maybe ours, to anyone. No proclamations, no codes and credos. Now it seems more about the simple story."
Another cut from the album, "Ticking of Her Heart," about how fear, alienation and depression consume a self, is a co-write with the great Pierce Pettis. The recording also includes a timely pep talk to Americans, "Back on the Horse": "… the only chance we have, of course, is to get our asses back on the horse. …"
And there is a horse named WISHING SKY: a 2-year-old thoroughbred, black with a white comet streak across his forehead, that is named for the album and title track (about two people listening to ancient voices under the night sky) that lives and trains in Louisiana and will start racing next month.
In 1999, Crockett dedicated the album SIMPLE PLANS and a yearlong 40-stop tour to efforts by Habitat for Humanity and the communities it serves. He's also written and recorded PASSAGES, an album of classical guitar pieces. In 2006, he and his wife, Dodee, founded Blue Rock Artist Ranch and Studio, where he is creative director and has produced albums for Cliff Eberhardt, Grace Pettis and others in its state-of-art recording facility there.
Crockett will play a special album release show at Austin's famed Cactus Cafe on November 18.
For more information, visit www.billycrocket.com and www.bluerocktexas.com.