Black Seeds + Katchafire @ The Fox Theatre
Submitted by mike on Wed, 05/05/2010 - 01:11
Originating from Wellington, New Zealand,
The Black Seeds
have carved out their reputation through platinum selling albums, a masterful 8-piece live show, and a unique sound that fuses infectious grooves and melodies with undiluted roots music.
With numerous European festival tours and releases behind them, and a successful 2009 North American release
,
their following continues to spread quickly around the globe.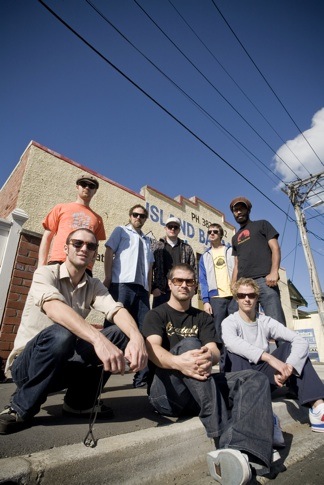 Led by the vocals of Barnaby Weir and Daniel Weetman, at its core
The Black Seeds
music is a boundary-crossing sound fusion of big-beat funk, dub, soul, and afro-beat, mixed with vintage roots-reggae.
Described by Clash Magazine as '
one of the best reggae acts on the planet'
, their legendary 8-piece live show brings the raw energy and good vibes wherever it goes. They now have countless sell-out New Zealand and Australasian tours behind them, and regularly
perform at many of Europe's biggest festivals.
"The Black Seeds manage to play beyond the normal boundaries of reggae without compromising the music's heart. While "Rotten Apple" has all the thump of a vintage Parliament-Funkadelic jam , "Afrophone"'s punchy horns and get- on-the-good-foot rhythm recall James Brown and the J.B.s at their peak – and the Seeds manage to pull it all off while retaining their voice. They make the blend of sounds feel absolutely natural. This is not a reggae band dropping a nov- elty funk cover into the middle of a set, this is simply Black Seeds music." - Jambase.com (U.S.A) – Nov. '09
Reggae is one of the bloodlines of New Zealand music -- which accounts for the extraordinary success of Hamilton's Katchafire who, emerged as the hardest working band in the country. Their astonishing debut album, the prophetically named Revival, sold in excess of 30,000 copies (double platinum). The success of the band was evident in album sales, opening shows for the likes of Michael Franti and Spearhead, gigs all across the country (three in one day on Waitangi Day 2004, in Hamilton, Manukau and Nelson), three tours to Australia and New Caledonia, and most recently a stadium-filling headlining show in Fiji.
From humble beginnings 'jamming' in a garage, Katchafire is a melting pot of unique members, including two generations of one family and diverse musical perspectives – yet this blend is exquisitely aligned with the essence of reggae which can be an expression of social and political persuasions, hardship and pain, relaxation and reflection. Dubbed New Zealand's hardest working band by national media, Katchafire have now completed numerous national and seven international tours. The band has moved audiences around the globe with three tours in New Caledonia, one tour in each Fiji and Hawaii and 10 Australian tours.
Katchafire's unique, proudly New Zealand reggae style envelopes cross-cultural and cros-generational audiences in the revitalising vibes of healing music, encouraging sing-alongs and regeneration of soul. The Katchafire flame continues to burn ever brighter and stronger.
Sat, July 10th, 9:00pm
BLACK SEEDS + KATCHAFIRE
Internet 24-7 at www.foxtheatre.com | Phone: During box office hours: 303.443.3399