Blog-Style: Jacob Fred Jazz Odyssey at Dazzle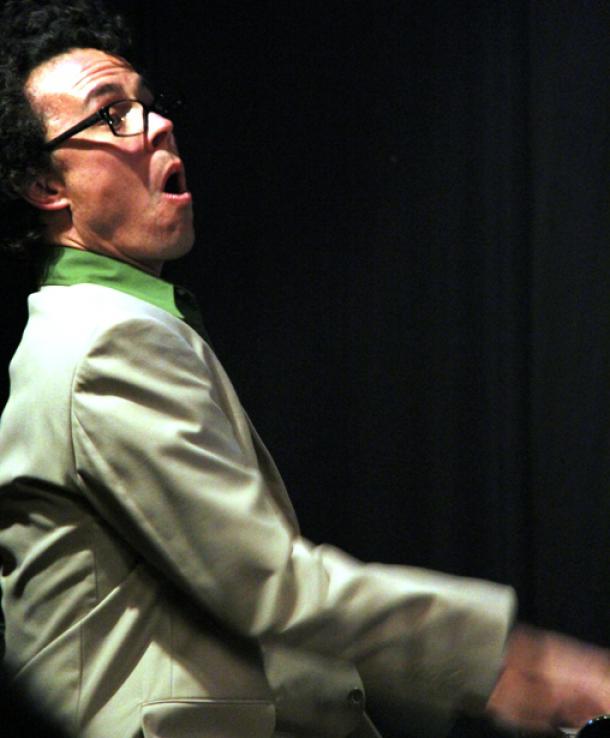 Last week the Jacob Fred Jazz Odyssey played a total of four shows at Denver restaurant/lounge Dazzle. The quartet from Tulsa, OK did an early show and a late show on both Wednesday and Thursday, and I was in attendance at the early show on Thursday. I hadn't been to Dazzle before this show, and wasn't really sure to feel about their name, but the venue turned out to be the perfect spot for the experimental, avant-garde jazz sounds of JFJO.
Dazzle is a dim-lit, classy little joint with large tables around the perimeter and in the back of the rectangular room, and smaller, two-person bistro tables comprising the first three rows off of the stage. Waiters served drinks and a full menu of eats. Dazzle was a relaxing change from the norm of the busy, packed theaters and stadiums I usually find myself in, and the calamari was pretty bad-ass too.
The band gathered on the side of the stage to get geared up for their set (as there is apparently no dressing room at this venue), resembling your run-of-the-mill gang of Denver hipsters. Founder and pianist Brian Haas took to the stage followed by Josh Raymer (drums), Chris Combs (lap-steel), and Jeff Harshbarger (double bass). Joined by Boulder saxophonist Josh Quinlan, the quartet played several selections from Combs' Race Riot Suite, a collection of movements that reflect on "one of the largest racial conflicts and cover-ups in America's history," the 1921 race riots in Tulsa.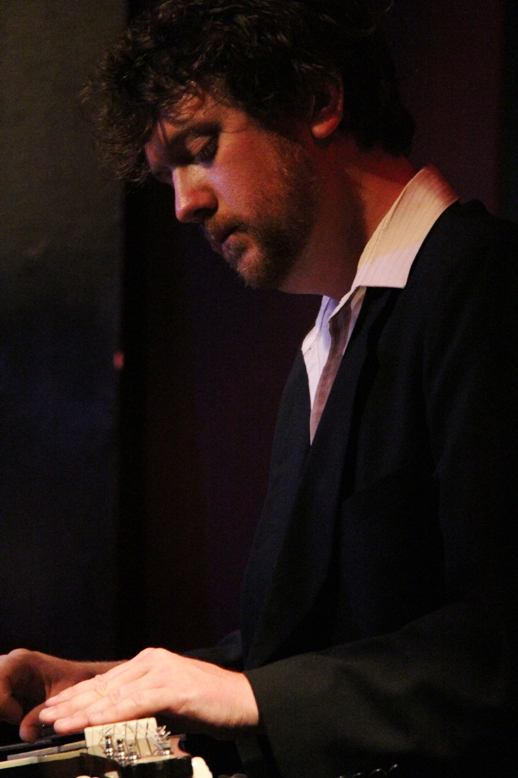 "Black Wall Street," RRS's first movement, as well as subsequent movements: "The Burning," "Mount Zion," "Lost in the Battle for Greenwood," and "Grandfather's Gun" were all composed note for note by Combs, and gave the audience a sneak peak at the technical ability (the bold ventures, the time signature changes and the eclectically influenced composition) of these four professionals in long form. RRS is due out in August. The audience watched closely and thought (you can see jazz hounds thinking while they listen), nodding in polite approval as JFJO created monster after monster.
"From Myers Flat to Miranda," a song about redwood trees in Northern California came in on a subtle wave and almost immediately jumped into a piano led groove which then got smoothed out by the lap-steel. The use of lap-steel in jazz is a new thing for me. It lends a certain southern, country element which is quite pleasant, and is the yang to the yin of the piano's urgency. Upon request from an audience member, the boys closed out the evening with "Drethoven," from 2009's One Day in Brooklyn.
JFJO are nothing short of "blow your doors off" impressive. A jazz group of the modern day, pulling influence from everywhere including traditional jazz, rock and roll, and bands such as Radiohead. Not a show to miss. Put on your listening hat, have a glass of wine, sit back and and get ready to take a wild ride through the world of modern jazz.