Blue Turtle Seduction: 16 States for 13 Floors Tour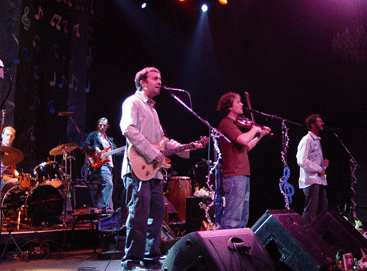 Blue Turtle Seduction is no stranger to the road - and now their upcoming "16 States, 13 Floors Tour," leads them across 16 states in support of their digital release of 13 Floors, proof this touring juggernaut is primed to give the fans ample opportunity to hear the latest tunes featured on the release. The bluegrass, folk, hip-hop and rock ensemble will kick off the tour in Sparks, Nevada, on April 18 before making their way through Oklahoma, Arkansas, Missouri, Wisconsin, Minnesota and several others before heading back west with a finale in Dunsmuir, CA, at Sengthong's Blue Sky Room on May 16, less than a month after the tour kicks off.
Hailing from South Lake Tahoe, CA, the band released the digital version of their album 13 Floors on Feb. 10. Perhaps the truest encapsulation of the essence of the band, this release pieces influences from The String Cheese Incident to Duran Duran to The Clash into a 13 track good vibe record. Since forming in 2001, the band has worked to bring the good mountain vibes together with the easy living vibes of the coast of California. The album is at times rock, at times bluegrass, occasionally hip-hop and gypsy folk at the core. The album showcases each musician equally, with intricate undertones of a deeper side of the band. Dennis Cook of JamBase.com said of the album in a Sept. 2008 review, "… 13 Floors is a good time, plain and simple, and a finely crafted studio effort that hints at their true depths."
Featuring Jay Seals (guitar, vocals) Glenn Stewart (harmonica, pan flute, vocals), Christian Zupancic (violin, mandolin, vocals), Stephen Seals (bass) and Adam Navone (drums), the band met while working at a resort in South Lake Tahoe. Their combined effort on-stage leaves no opportunity for crowds to just stand there, but rather, get down and dance. Big smiles and high energy typify a Blue Turtle Seduction show, all the while spreading the socially aware message the band has grown to be known for.
Already the band has worked up thrilling stage interpretations of the songs off of 13 Floors, so fans should expect to hear the album in variation at stops along the 16-state run. And further expect those songs to lead into jam sessions, then falling back into chorus. Several highlights on this tour include the Norman Music Festival and the Hemp Hoe Down, as well as sharing bills with Oakhurst, That One Guy, Madahoochi, 56 Hope Road and Pert Her Sandstone. Spring is a great time for a road trip and Blue Turtle Seduction is really looking forward to this one.
For more information go to:
www.BlueTurtleMusic.com
Tour Dates:
04/18 – Great Basin Brewery Co. – Sparks, NV
04/21 – Urban Lounge – Salt Lake City, UT
04/23 – Hodi's Half Note – Ft. Collins, CO
04/24 – Bottleneck – Lawrence, KS
04/25 – Norman Music Festival – Norman, OK
04/28 – The Deli – Norman, OK
04/30 – Juanita's Cantina – Little Rock, AR
05/01 – The Old Rock House – St. Louis, MO
05/02 – High Noon – Madison, WI
05/03 – Nomad World Pub – Minneapolis, MN
05/05 – Vaudeville Mews – Des Moines, IA
05/07 – Hemp Hoe Down – Sturgis, SD
05/08 – Filling Station – Bozeman, MT
05/09 – John's Alley – Moscow, ID
05/10 – Tractor Tavern – Seattle, WA
05/12 – The Goodfoot Lounge – Portland, OR
05/13 – Sam Bond's Garage – Eugene, OR
05/14 – The Applegate Lodge – Applegate, OR
05/15 – Humboldt Brews – Arcata, CA
05/16 – Sengthong's Blue Sky Room – Dunsmuir, CA