Bob Marley's Wailers Continue His Legacy With New Single To "Keep Them Belly Full"
Submitted by mike on Tue, 10/05/2010 - 00:18
On a trip to Colombia at the end of last year, legendary reggae group
The Wailers
gave out hundreds of pairs of shoes to under-privileged children from the money they had raised from foregoing their daily riders.  During their extensive travels that followed, they were often confronted with one of the worst plights, yet one of the easiest problems to solve – hunger.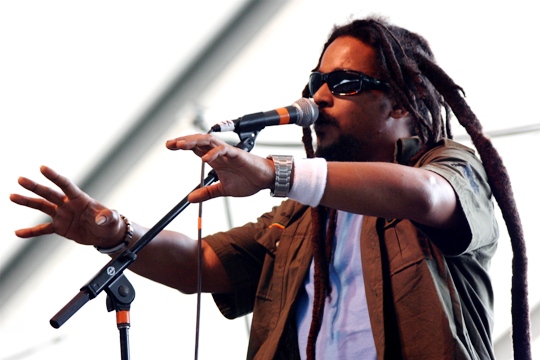 The Wailers
' leader and musical director Aston "Familyman" Barrett decided to collaborate with the World Food program and the United Stations because he felt that he wanted to make a contribution to help put an end to hunger around the world.  The result of their efforts culminated in a new track called "A Step for Mankind," which is their first studio song in 16 years.   The song was recorded specifically for Oniric Records' compilation CD Solution for Dreamers: Season 3 and is available at iTunes with ALL proceeds from the song going towards the United Nations' World Food Programme (WFP). The Wailers are now asking for your help.
"A Step for Mankind," written by Wailers' vocalist Duane Stephenson, is a call for world unity and strength to support the ongoing struggle against world hunger. The band is joined on the track by new lead singer Koolant, a fresh talent from the heart of St. Thomas known for blazing a positive future for reggae music with his work. The track also introduces Dr Dre protégé Bishop Lamont, an up-and-coming rapper, contributes an unforgettable flow in the track's breakdown.  Graced by
the Wailers
' undeniably distinctive groove., "A Step for Mankind" is a small taste of more music forthcoming from the Wailers, who recently entered the studio in Jamaica to begin work on an album of all-new material.
The World Food Programme is the world's largest humanitarian organization fighting hunger worldwide. A United Nations institution, the WFP is committed to getting food where it is needed, saving the lives of victims of war, civil conflict and natural disasters. Each year, on average, WFP feeds more than 90 million people in 70 countries.
According to the World Food Programme
website
:
Every 6 seconds a child will die from hunger

Each day 25,000 people will die from a lack of food

1.02 billion people will go to sleep hungry tonight, this is 15 percent of the estimated world population
For 25 cents you can help save a person's life today by going to iTunes and purchasing
The Wailers
"A Step for Mankind"
here
.