Bobby Long News & Tour Dates
Submitted by mike on Tue, 04/13/2010 - 21:30
Bobby Long, the young British singer-songwriter who has built an expansive worldwide fan base through constant touring over the last year, will be featured on National Public Radio's popular World Café program going out to its affiliate stations on Tuesday, April 27.  Carried nationally on over 200 radio stations through out the U.S., the show will be culled from Long's recent appearance on WXPN's weekly Free at Noon broadcast along with an interview with World Café host David Dye.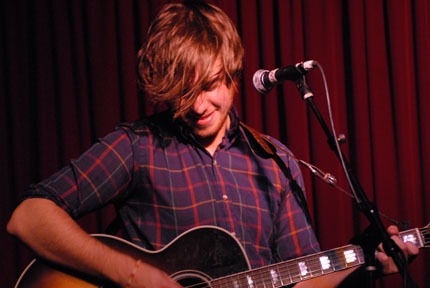 Long, who is unsigned and whose demanding tour schedule will continue into the summer, appeared live on Free at Noon on March 12 from Philadelphia's World Café Live venue, where he also played to an SRO audience in their upstairs room the following evening.  The prolific singer-songwriter-guitarist's set list included a selection of his better-known songs-"The Bounty of Mary Jane," "In the Frost," "Penance Fire Blues," "Dead and Done," "Two Years Old" and "Who Have You Been Loving," the song that first brought him to the attention of WXPN's music staff.  He also performed two of his newer compositions, "A Happy Winter" and "A Stranger Song."
A new Bobby Long single entitled "My Darling Bell" will be available for download from all digital outlets, including iTunes and amazon, beginning today (April 13, 2010). "My Darling Bell" appears on the new live collection of highlights from his DANGEROUS SUMMER 2009 tour, which is available exclusively at his live appearances.  Long has previously released two songs digitally from DIRTY POND SONGS, the first CD he recorded to make available at his live shows.  The first-"Left to Lie"-reached #1 on iTunes' Unsigned and #8 on its Folk charts. "The Bounty of Mary Jane" was released at the start of last summer's tour, followed by a live version of "Being A Mockingbird" recorded at Arlene's Grocery in New York during one of Long's very first U.S. appearances.  "My Darling Bell" is his first new digital release in almost a year.
Though still unsigned, Long is nearing completion of his much-anticipated studio debut recording, produced by Grammy®-winning producer Liam Watson (The White Stripes).  The CD was recorded at Watson's analog Toe Rag Studios in London with studio musicians backing him up on most of the tracks, but several songs will receive the spare, acoustic guitar accompaniment his fan base has come to know and love.  A review in Jambase of his recent SRO show at New York's Mercury Lounge comments on his finger-style guitar playing:  "The majority of [Long's] catalog builds off relatively simplistic chord progressions, but he shows a remarkable knack for adding color via accent notes with his unorthodox two-fingered picking attack and construction of fuller, brighter chords than the standard singer-songwriter fare. Notably, he walks the line between country blues and the more uplifting traditional I-IV-V type structures, while taking the crowd energy through high peaks of heavy strumming howls and low valleys of quiet, whispered picking."
Upcoming Bobby Long shows include: 
April 28-Jammin' Java, Vienna, VA
May 1-The Bamboozle Festival, Meadowlands Sports Complex, East Rutherford, N.J.
--
Bobby will support matt pond PA on the following shows in May: 
May 5-Chameleon Club, Lancaster, PA
6-Allen Street Stage, Penn State University, State College, PA
7-Mac's Bar, Lansing, MI
9-The House Café, DeKalb, IL
10-Mad Planet, Milwaukee, WI
11-Slowdown, Omaha
12-Fox Theater, Boulder, CO
14-Bottleneck, Lawrence, KS
15-Mojo's, Columbia, MO
17-Hi Tone Café, Memphis
18-Square Room, Knoxville
20-40 Watt, Athens, GA
21-Village Tavern, Mt. Pleasant, SC
22-Local 506, Chapel Hill, NC
24-The Southern, Charlottesville, VA
25-Otto Bar, Baltimore, MD