Bonerama Releases New Single @ PartyGras.com
Submitted by madison on Fri, 02/27/2009 - 01:34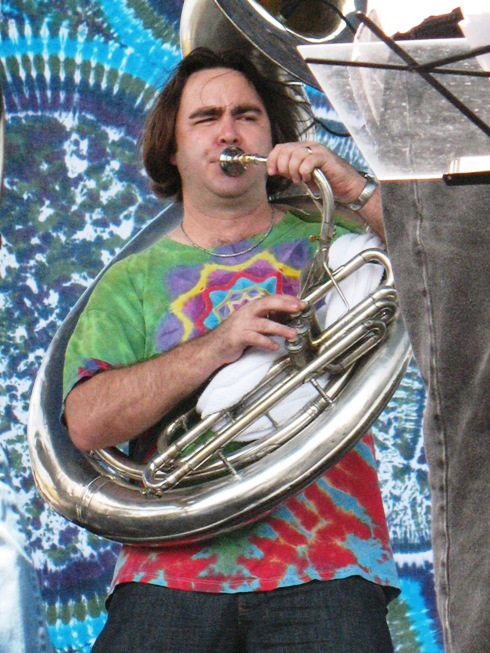 Celebrate Fat Tuesday at PartyGrass2009.com to download an exclusive new single by Mardi Gras veterans Bonerama. PartyGrass2009.com launched in January promising to make every Tuesday Fat Tuesday, by offering exclusive music releases or free downloads every Tuesday this year.
Anchored by the music of New Orleans' own Bonerama and Porter Batiste Stoltz, PartyGras2009.com commemorates their hometown's most famous holiday with brand new music and a year of free downloads.  Thinking outside the box to offer fans access to rare and unreleased music, PartyGras2009.com will deliver funky new music each Tuesday all year long.  The release might be a live show, a single of a brand new song, or an archival release from the bands' vaults.  But remember to visit often - all the free material released is available only for one week; until the next Tuesday, when new tunes are featured.
Bonerama's Single Series, where the band releases one new single at a time, kicks off on Fat Tuesday with the release of their brand new song, "Big Fine Woman," available at PartyGras2009.com. While you're there, sign up to receive free music every Tuesday this year, and visit back for offers on never before heard studio releases, exclusive live performances, and more.
www.PartyGras2009.com - Every Tuesday is Fat Tuesday.
Both Bonerama and Porter Batiste Stoltz are on tour now.  Tour dates are as follows.
Bonerama - www.bonerama.net:
March 13 The Howlin' Wolf North Shore New Orleans LA
March 14 Mid City Lanes New Orleans LA
March 27 City Limits Live Delray Beach FL
March 28 Aces Lounge Bradenton FL
April 04 The Swamp Thing and Crawfish Festival Austin TX
April 10 Maple Leaf New Orleans LA
April 18 Rummel High School Fundraiser New Orleans LA
April 19 French Quarter Festival New Orleans LA
April 23 Tipitina's New Orleans LA
April 24 Festival International de Louisiana Lafayette LA
April 25 Mid City Lanes New Orleans LA
May 02 New Orleans Jazz and Heritage Festival New Orleans LA
May 02 Mid City Lanes New Orleans LA
May 03 Maple Leaf New Orleans LA
May 16 Tropical Heat Wave Tampa FL
May 29 Michael Arnone's Crawfish Festival Augusta NJ
May 30 Western Maryland Blues Festival Hagerstown MD
Porter Batiste Stoltz - www.porterbatistestoltz.com:
March 17 Owsley's Golden Road Denver CO featuring Kyle Hollingsworth
March 18 Boulder Theater Boulder CO featuring Kyle Hollingsworth
March 19 Winter Concert Series Telluride CO
March 26 Space Evanston IL
March 27 Trocaderos Minneapolis MN with Karl Denson's Tiny Universe
March 28 Overture Center for the Arts Madison WI
April 26 Howlin' Wolf New Orleans LA
May 02 Tipitina's New Orleans LA featuring Page McConnell
May 16 Joshua Tree Music Festival Joshua Tree CA
May 29 Mountain Jam Hunter NY
June 04 Wakarusa Ozark AR
June 05 Wakarusa Ozark AR