Bonerama Teams Up With OK Go for "You're Not Alone"
Submitted by madison on Wed, 01/30/2008 - 12:23
This Mardi Gras (February 5th), Bonerama and OK Go will release You're Not Alone, a five-song digital EP.  Bonerama and OK Go spent the second anniversary of Hurricane Katrina recording at Piety Street Studios deep in the city's Upper 9th Ward.  One hundred percent of the proceeds from the EP – available exclusively at iTunes – will benefit members of New Orleans' music community such as R&B legend Al Johnson, who are still struggling to rebuild their homes and their lives in the aftermath of the flood.
"New Orleans is one of the last places in America where music is truly a fundamental part of everyday life," says OK Go singer Damian Kulash. "People get together on the weekends and parade through the streets just playing songs; 12-year-old-kids learn funk on the tuba; everyone dances.  Life elsewhere in the world simply isn't as celebratory.  If we allow the culture of New Orleans to die by leaving its musicians marooned around the country, America will have lost one of its great treasures."
This weekend, OK Go and Bonerama will finish up the second of two benefit shows: a January 11 th gig at New Orleans' Tipitina's (as part of the legendary club's 30th anniversary celebration) and upcoming February 2nd show at The 9:30 Club in Washington, DC, which will be streamed and podcast by NPR. Bonerama will open the DC show, then play material from You're Not Alone with OK Go, who will close the evening with a full set.
On Monday, February 11 th, Bonerama and Kulash will perform " A Million Ways " on CBS' Late Show with David Letterman.
Engineered by Mark Nevers (Bobby Bare Sr., Calexico, Bonnie "Prince" Billy), You're Not Alone is an astonishing collaboration, with Bonerama lending its loud, trombone-and-tuba New Orleans swagger to OK Go's bombastic rock.  Together, they re-interpret three tracks from OK Go's most recent album, Oh No: " A Million Ways," "It's A Disaster" and "Oh Lately It's So Quiet."   A pair of covers – David Bowie's "Rock 'n' Roll Suicide" and Bob Dylan's "I Shall Be Released" – round out the collection. Al "Carnival Time" Johnson, who wrote "Carnival Time," the unofficial anthem of Mardi Gras, contributes haunting vocals to the latter.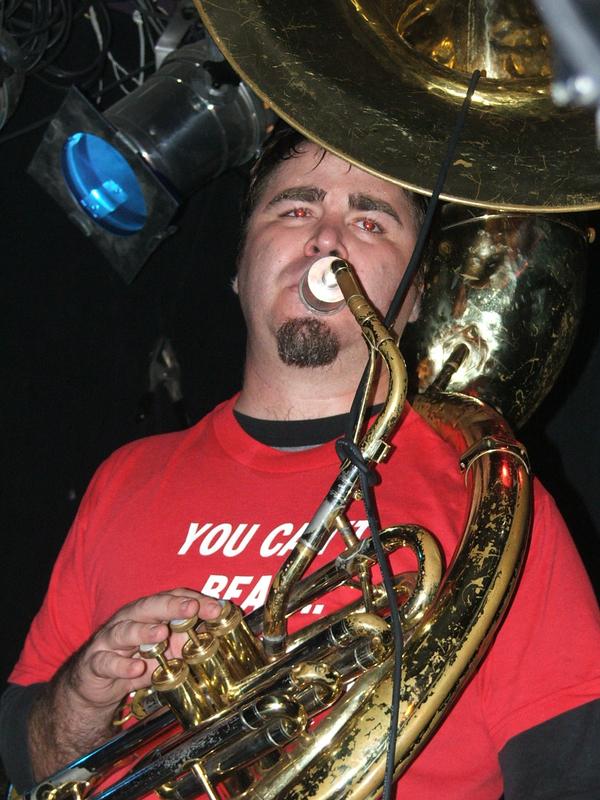 Johnson's Lower 9 th Ward home was washed off its foundation by the levee failures during Hurricane Katrina and later demolished by the city without his knowledge or consent.  He has been living in Houston, TX for the past two years.  Proceeds from You're Not Alone will go towards building a new Habitat For Humanity home for him as well as to Sweet Home New Orleans, an organization dedicated to helping repatriate and support the thousands of local musicians who were scattered by Katrina.
Enthusiasm for the project has proved contagious.  iTunes has agreed to donate all proceeds from EP sales, and digital distribution powerhouse IODA is servicing and promoting it free of charge.  In addition, free freight shipping was provided by EFM Worldwide/Horizon Cargo, and Music Travel Management contributed free airfare for the two benefit shows.
About Bonerama:
Bonerama carries the brass-band concept to places unknown.  Hailed by Rolling Stone's David Fricke as "The ultimate in brass balls" last Fall, the band served as the House Band for the live all-star comedy event COMIC RELIEF.  The 2006 event, which featured a long list of A-talent including hosts Billy Crystal, Whoopi Goldberg and Robin Williams, was recorded live from Ceasar's Palace last November. Recently, Bonerama snagged the coveted "Best Rock Band" honor from the 2007 Big Easy Awards.
The current list of confirmed Bonerama tour dates is as follows:
February 01 8x10 Club Baltimore MD
February 02 9:30 Club Washington DC Benefit performance with OK Go
February 04 Howling Wolf New Orleans LA
February 07 The Pour House Charleston SC
February 09 Berkeley Cafe Raleigh NC
February 10 The Garage @ The Biltmore Asheville NC
February 13 Smith's Olde Bar Atlanta GA
March 08 The Gretna Jubilee Gretna LA
March 26 Iowa City Yacht Club Atlanta GA
March 27 Cabooze Minneapolis MN
March 28 Overture Center For the Arts Madison WI
March 29 Martyrs' Chicago IL
April 04 First Energy Berks Jazz Fest Wyomissing PA
April 05 The Swamp Thing and Crawfish Festival Austin TX
May 02 Mid City Lanes New Orleans LA
May 20 Bourbon Street Music Club Sco Paulo Brazil
May 29 Chans Woonsocket RI
June 01 Mike Arnones Crawfish Festival Wakefield RI
July 05 Iowa City Jazz Festival Iowa City IA
More dates will be announced.