BoomBox Announces Music Video Shoot in Boulder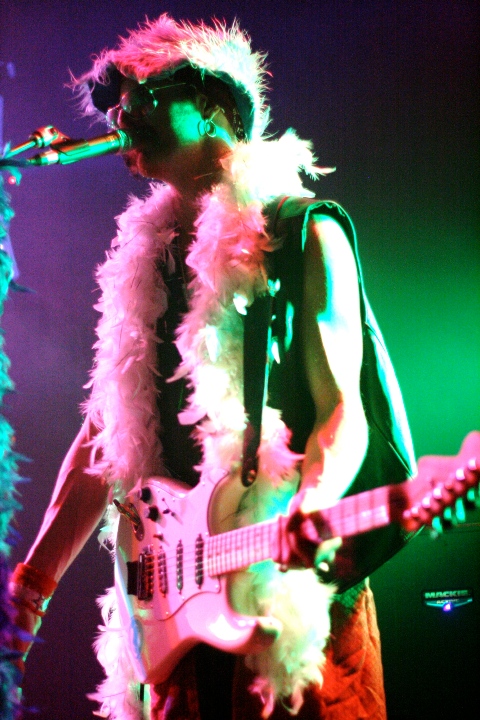 BoomBox is a group that thrives on crafting the unconventional, shattering stereotypes and creating music outside of boundaries that the majority of artists reside in. When BoomBox returns to the Fox Theatre in Boulder, CO on April 9th, the duo will be recording the entire performance on HD for their first music video. The groundbreaking nightlong adventure into the heart of live psychedelic electronica will feature visual elements alongside BoomBox's hypnotic multi-genre musical blend, all in promotion of their nearing summer release, downriverelectric.
BoomBox is encouraging attendees to participate in the fan-friendly festivities by donning their craziest, most colorful outfits. Truly a one of a kind event, the audience will be the focus of the taping, giving an extraordinary glimpse into the world of the BoomBox live experience. The party-like atmosphere of the shoot will join a long list of groundbreaking BoomBox performances that have become the essence of the group. The duo's diehard supporters have long known to expect the unexpected when it comes to BoomBox, and this non-stop celebration will be no different.
Hailing from legendary Muscle Shoals, Alabama, BoomBox consists of one part DJ / producer Russ Randolph and one part singer / songwriter / guitarist Zion Rock Godchaux. The duo founded BoomBox on the notion of shaping dance-ready rhythms, mesmerizing mixes and textured guitar passages into a sonic journey of sound and revelation. Incorporating live instrumentation and vocals mixed, re-mixed and re-sampled in real time, BoomBox swarms stages with unrivaled energy and body-moving vibes, winning audiences over on a nightly basis.
TOUR DATES:
04/04 – Newby's – Memphis, TN
04/09 – Fox Theatre – Boulder, CO
04/01 – Copper Mountain - Sunsation Festival – Frisco, CO
04/16 – Old Rock House – St Louis, MO
04/17 – Subterranean – Chicago, IL
04/18 – Nelson Ledges - Early Bird Festival – Garrettsville, OH
04/20 – Rex Theatre – Pittsburgh, PA
04/22 – Bill's Bar – Boston, MA
04/23 – Wheel House – Narragansett, RI
04/24 – Red Square – Albany, NY
04/25 – Rocks Off - Rocks Off Concert Cruise Series – New York, NY
04/27 – The 8x10 – Baltimore, MD
04/30 – The Pour House Music Hall – Raleigh, NC
05/01 – Awful Arthur's – Roanoke, VA
05/02 – World Grotto & Marketplace – Knoxville, TN
05/08 – Exit / In – Nashville, TN
05/15 – Joshua Tree - Joshua Tree Music Festival – Joshua Tree, CA
05/28 – The Bluebird Nightclub – Bloomington, IN
05/29 – Newport Music Hall - Ohio Hempfest Pre-Party – Columbus, OH
06/05 – Mulberry River Ranch - Wakarusa – Ozark, AR
06/06 – Mulberry River Ranch - Wakarusa – Ozark, AR
07/24 – Soo Pass Ranch - 10,000 Lakes Music Festival – Detroit Lakes, MN