BOOMBOX CONTINUES 'DOWNRIVERELECTRIC' TOUR IN COLORADO
Submitted by mike on Wed, 01/19/2011 - 04:04
After a completely sold out Colorado tour in early 2010 with return trips this past summer to play the Mile High Music Festival and to close out the Westword Music Showcase, BoomBox returns for 7 dates with Sub Swara and their genre-bending bass music from Brooklyn, NY. These dates are sure to sell out quickly and all tickets are on sale now.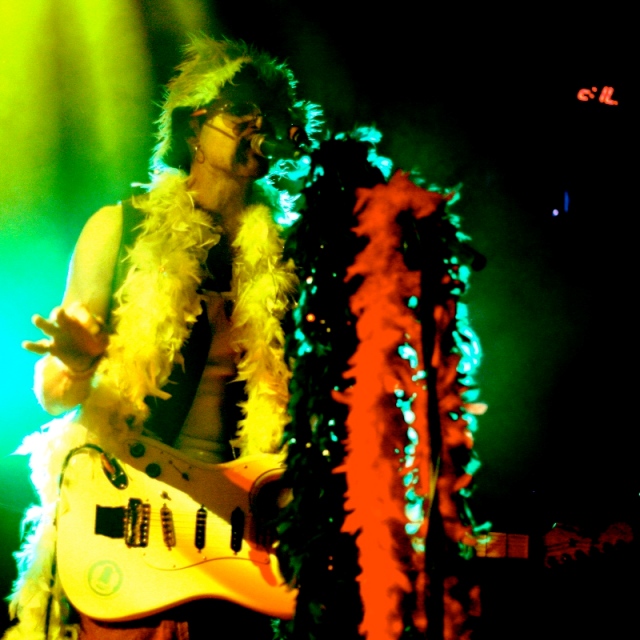 You can currently catch BoomBox on the East Coast leg of their 'downriverelectric' tour with stops in the mid-west before they make it to Colorado.
BoomBox, born out of legendary Muscle Shoals, AL features Producer/Engineer/DJ/Drummer Russ Randolph and Producer/DJ/Vocalist/Guitarist Zion Rock Godchaux. This pair of dynamic artists uses their rich musical history, inspiring vision and pop culture influences to deliver a style of music distinctly different from anything heard in the live music scene today. Their signature sound and high-energy shows bring live music to a new, elevated level.
BoomBox released their sophomore album, downriverelectric (available on iTunes) on June 30, 2010 using analog recording sessions and some of the same vintage gear as their Muscle Shoals predecessors. The album, with over 5000 units moved via their website in the first month, pays homage to the musical memoirs of Muscle Shoals' past and to the rhythm of the Tennessee River, which has long inspired the group. From brand new cuts such as Dungeons and Watergun to live fan favorites Headchange and Mr. Boogie Man, the album deliberately weaves a variety of dance frenzy beats filled with catchy songwriting and soul shuttering low end.
Sub Swara creates, constructs, produces and plays genre-bending bass music that parallels the diversity of their hometown of Brooklyn, NY. Consisting of Dhruva Ganesan and Dave Sharma, Sub Swara's musical genome brings together a wide assortment of DNA – from dub to hip-hop, dancehall to punk rock, and all the global sounds in between.
Check out Grateful Web's interview with Boombox.
--
Tour Dates:
Friday, January 14, 2011
Headliners Music Hall
1386 Lexington Road, Louisville, KY 40204 (United States) - Map
502-472-2984
Set: 8:00 PM 
18+ 
Tickets: $15 / $18 
Saturday, January 15, 2011
2720 Cherokee
2720 Cherokee St, Saint Louis, MO 63118 (United States) - Map
314-276-2700
Set: 8:00 PM 
18+ 
Tickets: $10 to $15 
Friday, January 21, 2011
The Valarium
940 Blackstock Avenue, Knoxville, TN 37921 (United States) -Map
(865) 522-2820
Set: 9:00 PM 
18+ 
Tickets: $12 / $15 
Saturday, January 22, 2011
Masquerade (Hell Stage)
695 N Ave NE, Atlanta, GA 30308 (United States) - Map
(404) 577-7509
Set: 9:00 PM 
All Ages 
Tickets: $12 / $15 
Wednesday, January 26, 2011
The Engine Room
809 Railroad Ave, Tallahassee, FL 32304 (United States) - Map
850-222-8090
Set: 9:00 PM 
18+ 
Tickets: $10 / $12 
Thursday, January 27, 2011
Vinyl Music Hall
Palafox & Garden St., Pensacola, FL 32502 (United States) - Map
850-748-4829
Set: 9:00 PM 
18+ 
Tickets: $10 / $15 
Friday, January 28, 2011
The Social
54 N Orange Ave, Orlando, FL 32801 (United States) - Map
(407) 246-1419
Set: 9:00 PM 
18+ 
Tickets: $10 / $12 
Saturday, January 29, 2011
Common Grounds
210 SW 2nd Ave Suite A, Gainesville, FL 32601 (United States) -Map
(352) 372-7320
Set: 9:00 PM 
18+ 
Tickets: $10 to $15 
Buy Now
Thursday, February 10, 2011
The Vogue
6259 N College Ave, Indianapolis, IN 46220 (United States) - Map
(317) 254-2028
Set: 9:00 PM 
21+ 
Tickets: $10 - $15 
Friday, February 11, 2011
The Canopy Club
708 S Goodwind, Urbana, IL 61801 (United States) - Map
(217) 367-3140
Set: 10:00 PM 
18+ 
Tickets: $10 - $13 
Saturday, February 12, 2011
Newport Music Hall
1722 N High St, Columbus, OH 43201 (United States) - Map
(614) 294-1659
Set: 8:00 PM 
All Ages 
Tickets: $15 - $17 
Sunday, February 13, 2011
Magic Stick
4120-4140 Woodward Ave, Detroit, MI 48201 (United States) -Map
(313) 833-9700
Set: 9:00 PM 
All Ages 
Tickets: $15 
Wednesday, February 16, 2011
The Granada
1020 Massachusetts St, Lawrence, KS 66044 (United States) -Map
(785)842-1390
Set: 8:00 PM 
All Ages 
Tickets: $12 / $14 
Also Playing: The Floozies
Friday, February 18, 2011
Agave
1600 West Beaver Creek Blvd, Avon, CO 81620 (United States) -Map
970-748-8666
Set: 9:00 PM 
21+ 
Tickets: $15 / $17 
Also Playing: Sub Swara
Saturday, February 19, 2011
Abbey Theatre
128 E College Dr, Durango, CO 81301 (United States) - Map
(970) 385-1711
Set: 9:00 PM 
18+ 
Tickets: $15 
Also Playing: Sub Swara
Sunday, February 20, 2011
Eldo
320 S Main St, Crested Butte, CO 80424 (United States) - Map
(970) 349-6125
Set: 9:00 PM 
21+ 
Tickets: $16 / $18 
Also Playing: Sub Swara
Tuesday, February 22, 2011
Belly Up
450 S Galena, Aspen, CO 81611 (United States) - Map
(970) 544-9800
Set: 9:00 PM 
All Ages 
Tickets: $22 / $25 
Also Playing: Sub Swara
Wednesday, February 23, 2011
Three20South
320 S Main St, Breckenridge, CO 80424 (United States) - Map
(970) 547-9299
Set: 9:00 PM 
21+ 
Tickets: $15 / $17 
Also Playing: Sub Swara
Thursday, February 24, 2011
Bluebird Theater
3317 E Colfax Ave, Denver, CO 80206 (United States) - Map
(303) 377-1666
Set: 9:00 PM 
16+ 
Tickets: $15 / $20 
Also Playing: Sub Swara
Friday, February 25, 2011
Fox Theatre
1135 13th St, Boulder, CO 80302 (United States) - Map
(303) 447-1545
Set: 8:30 PM 
All Ages 
Tickets: $18 - $24 
Also Playing: Sub Swara